Canine cancer can be devastating. Sadly, Denise and Marc Collins of Den-Marc's Westies know this only too well. However, they are working to turn tragedy into triumph with bracelets for a cause, inspired by their beloved West Highland White Terrier, CJ, who lost his battle with Squamous Cell Carcinoma, only six months after being diagnosed.
Denise, a breeder who was used to showing her dogs, recalled, "CJ was special and we had a wonderful, but short-lived, journey together." Denise trained and showed CJ until he went national. She said, "He was one of those puppies that you just knew, even at four weeks, that he was going to be special. My fondest memories are ones from his puppyhood. He always stood like he was at attention with his tail up and a real showy attitude!"
"As a breeder one always hopes to have a special dog that achieves their wildest dreams. CJ did just that," she added.
CJ's formal name, with titles, was MBIS MBISS CH Den-Marc's Chain Reaction. Born and raised in the Collins home, his show career started at eight months of age with a group win. Multiple national specialty wins followed, as he rapidly became a "Bred By Exhibitor" champion by the time he was 18 months old.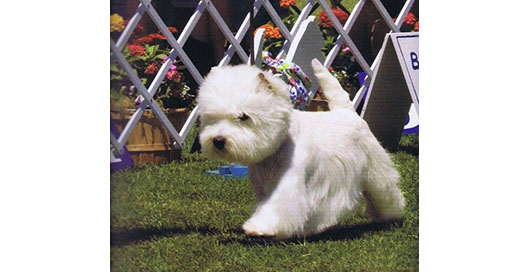 Denise remembered fondly, "I was so proud to show him as my dog. It wasn't long before we decided to pair him with a national handler and watched him become a rising national star in the dog world. Competing for only one year, he quickly gained many outstanding and record-breaking wins.
CJ is the only Westie to have won BOB all four shows in the Montgomery County weekend, including Morris and Essex. His many accomplishments include AKC Nationally Ranked #1 Westie and # 3 AKC All Terrier (2007), two AKC Best In Show wins, 121 Best of Breed wins, 32 group wins, and seven Best in Specialty and National Specialty wins. CJ ended his career after his last show at the Westminster Kennel Club Dog Show where he won Best Of Breed and was notably recognized on camera in the group competition. He went into retirement on a high note. "We were in the audience feeling so very proud of our dog," Denise said, still glowing with pride.
Then came the bad news. "Within a year of being home with us, he was diagnosed with  Squamous Cell Carcinoma of the inner ear. We were told it was very rare, not genetic, and rarely seen in dogs. The doctors explained that it hadn't been caught early enough. We just couldn't get ahead of it. The plan was to start radiation but he just couldn't stay strong enough to sustain the treatments. Over the six-month period, he was monitored closely with ultrasounds and X-rays and we were given lots of medication to keep him going as long as we could," Denise said sadly. "I can't tell you how difficult it was to watch our beautiful dog deteriorate week after week in front of our eyes."
Without medical insurance at the time, the cost of maintaining his medical care was extremely high, so Denise decided to start a campaign by reaching out to friends, family, and customers. As she had been a leather braider for many years, catering to the dog show community, designing hand-braided leather show leads, she decided to make bracelets and promoted them to help pay down the medical bills.
Bracelets For a Cause
And so, "Bracelets For A Cause" was born. "It was heartwarming to receive support and give support to so many people, many of whom were going through the same pain. After CJ passed, I decided to continue the campaign to promote awareness. I began donating portions of my profits to the National Canine Cancer Foundation," Denise explained.
Today, she remains one of our longtime Friends page fundraisers. She has raised over $3300 in honor of her boy CJ, primarily through the bracelets that she makes and sells, as well as sharing some of her profit from her lead- or leash-making business.
Her initiative is more important than ever at times like these. The current pandemic has left the NCCF unable to host in-person fundraising events, so we need to replace those events with these types of fundraisers in order to keep achieving our goal of fighting cancer in dogs. The NCCF welcomes anyone who would like to have a Friends page and lead this type of fundraising endeavor. Anyone whose life has been affected by canine cancer has a story to tell and people who will join them in fighting this disease that can affect all dogs.

Ultimately, through CJ, the inspiration lives on to help find a cure for this horrible disease affecting our beloved pets.
"We are extremely grateful for people like Denise who continue to honor their dog who has been lost to cancer by continuing the fight and doing continuous fundraising.  It is much needed in order to make progress. Denise has raised $3387 toward the cure since she started donating to the NCCF," said Sara Nice, Executive Director of NCCF.
The talented bracelet artist, Denise, shared her thoughts, "I hope and pray that someday there will be a cure for cancer, not only for our loving pets but for people as well. I believe with continuing research together we can find a cure."
To view a wide range of these bracelets for a cause styles, visit Denise's website at www.denisesleashes.com. Help us with our fight to find a cure for canine cancer.
Other Articles of Interest:
Texas Round Up – A party with friends to raise money
Puff from the Ruff – Raising money by drinking beer and playing mini golf
Dog Days of Summer – Photography with your dog to kick off summer
Trim a Tree for Charity – Employee takes part in company program
How To Help Pay For Your Dog Cancer Treatment Cost: 7 Fundraising Ideas
10 Warning Signs of Cancer in Dogs
Common Chemotherapy Side Effects