Lymphoma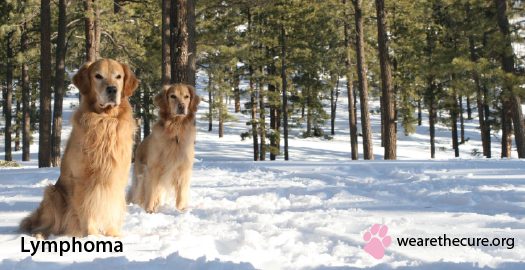 Description- 
Malignant lymphoma or lymphosarcoma is one of the most common neoplasms (tumor) in dogs. They usually originate in lymphoid tissues, like the lymph nodes, spleen, and bone marrow. However, they can arise in any tissues in the body. Lymphoma accounts for approximately 7-24% of all canine neoplasia (formation of a new tissue) and 83% of all canine hematopoietic (blood cells) malignancies. Lymphoma is generally seen in middle aged to older dogs (median age, 6-9 years). Breeds that are believed to have a higher incidence of lymphoma include Boxers, Bull Mastiffs, Basset Hounds, Saint Bernards, Scottish Terriers, Airedales and Bull dogs. Dogs with a lower risk include Dachshunds and Pomerians. Neutered females tend to have a better prognosis.
World Health Organization (WHO) has classified different stages of lymphoma based on its degree of metastasis and invasiveness. They are as follow:
Stage I: Ailment restricted to a single lymph node.
Stage II: Regional lymphadenopathy (restricted to one side of diaphragm).
Stage III: Generalized lymphadenopathy (enlargement of lymph nodes)
Stage IV: Enlargement of the liver and spleen or hepatosplenomegaly (with or without lymphadenopathy)
Stage V: Bone marrow, CNS (Central Nervous System), or involvement of other extranodal sites
Generic causes- 
The etiology is largely unknown and likely multi factorial. Current investigations are going on to ascertain some definitive causes. Chromosomal aberrations (change in the normal structure of chromosomes) have been reported in canine lymphoma. Though the involvement of a retrovirus (any of a group of viruses, many of which cause tumor) in the pathogenesis (development of a diseased or morbid condition) of canine lymphoma has not been confirmed, certain viral particles with properties similar to retroviruses have been detected in the short-term cultures of canine lymphoma tissue.
Certain environmental factors are also believed to trigger the disease. A hospital based case control study of dogs indicated that owners in households that developed malignancy sprayed 24-D herbicides in their lawns. Dogs living in industrial areas are believed to be at an increased risk of lymphoma. Moreover, households where owners use more chemicals like paints and solvents, dogs have been found to be slightly predisposed.
Weak immune system has also been identified in dogs with lymphoma.
Types of lymphoma-
 There are basically 5 types of Lymphoma:
Other Articles of Interest:

10 Warning Signs of Cancer in Dogs
Common Chemotherapy Side Effects

Thank you for utilizing our Canine Cancer Library. Please help us keep this ever evolving resource as current and informative as possible with a donation.
References
Tumors in Domestic Animals- Donald J. Meuten, DVM, PhD, is a professor of pathology in the Department of Microbiology, Pathology, and Parasitology at the College of Veterinary Medicine, North Carolina State University, Raleigh
Withrow and MacEwen's Small Animal Clinical Oncology– Stephen J. Withrow, DVM, DACVIM (Oncology), Director; Animal Cancer Center Stuart Chair In Oncology, University Distinguished Professor, Colorado State University Fort Collins, Colorado;
David M. Vail, DVM, DACVIM (Oncology) Professor of Oncology, Director of Clinical Research, School of Veterinary Medicine University of Wisconsin-Madison Madison, Wisconsin