There's something truly heartwarming about the sight of a dog gleefully pouncing on a favorite toy, tail wagging with pure joy. We understand that these moments of play are more than just fun – they're a vital part of keeping our pets happy, healthy, and thoroughly entertained.
In a previous blog, we discussed avoiding toxic toys that can be dangerous for our precious pups. In this blog, we'll provide insight into what toys are safe for dogs and guide you through how to choose the best toys for your furry friend.
Identifying Safe Dog Toys
Choosing the right toys for your pup is about more than just fun – it's about safety too. Looks can be deceiving, and just because a toy is entertaining doesn't mean it's safe. Keep an eye out for these key factors to help you identify safe dog chews and toys.
Toy Material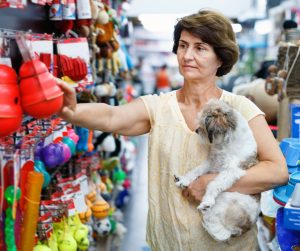 The first part of identifying safe dog toys is understanding what materials the toy is made from. Dog toys are not regulated by the FDA and only regulated by the Consumer Product Safety Commission in regard to dog toys that may pose risks to humans.
Some toys, especially those made from plastics, can contain chemicals that are dangerous or even life-threatening to dogs. Read our previous blog about specific chemicals and toxins in dog toys and how to avoid them.
Look for: Grade A or natural rubber dog toys, or toys made from natural fibers such as cotton, wool, or hemp.
Manufacturing Standards
It's important to choose toys from reputable manufacturers that don't use toxic toy coatings, chemicals, or harmful dyes in the manufacturing process. Check the FDA animal/veterinary recalls list to identify brands that have had products recalled. This can indicate potential manufacturing issues.
Look for: Brands and toys that have a sound reputation in the pet industry, are clear about their manufacturing process and come recommended by vets and animal care experts.
Appropriate Size
For a toy to be safe, it needs to be an appropriate size for your dog. For smaller dogs, choose toys that they hold in their mouth and carry without struggling. Bigger dogs require chew toys with a larger diameter so they are not easily broken or swallowed.
Toys can pose a choking hazard when they are too small for the dog and if they have small parts that may come loose and be swallowed (strings, beads, bells, eyes, etc.).
Look for: Appropriately sized toys that are big enough they cannot be swallowed or get stuck in their mouth.
Durability
To prevent dogs from breaking toys, swallowing parts, or cutting themselves on sharp edges, the safest dog chews are made from durable materials.
Rubber and silicone are usually good materials options for safe, non-toxic dog toys. These materials are durable, yet pliable enough not to cause damage to your pet's teeth.
Look for: To test the durability of your dog's toys, do the thumbnail test. If your thumbnail can make an indent in the object, it's okay to chew. If your thumbnail bends, it's likely to break teeth.
Common Dog Toy Types and Safety Tips
Whether it's a ball for a game of fetch, a stuffed animal for cuddling, or a challenging puzzle to solve, you can be sure that every pup can find fun and safe toys that keep them happily entertained.
Chew Toys: Great for high-energy dogs. They also help to relieve stress and help clean your dog's teeth. For safe and healthy dog chew toys, look for toys made from sturdy materials such as rubber, silicone, or nylon, which can withstand your dog's strong jaw.
Interactive and Puzzle Toys: These toys are great for both the mental and physical health of your dog. Some of the best interactive toys for dogs include puzzle toys, treat-dispensing toys, and balls with treat compartments.
Fetch and Tug Toys: Great for active play and ensuring your dog gets plenty of exercise. These toys also allow you to play and interact with your dog. These types of toys include knots of thick rope, balls, flexible flying discs, etc.
So how do you choose a good, safe toy for your dog? It's important to understand your dog's play style, needs, and preferences to help you choose types of toys that are fun, safe, and healthy. Is your dog a puppy, an adult, or a senior? Is he a chewer, a cuddler, or a chaser? Choosing toys that match a dog's play style can enhance engagement and safety.
It's also important to clean, replace, and rotate your dog's toys regularly.
Cleaning toys: This helps to reduce the spread of bacteria. Look for toys made from washable materials. If they are getting really dirty and you can't wash them, replace them.
Wear and tear: It's crucial to replace damaged toys to prevent injury and choking hazards.
Rotating toys: This helps to maintain a dog's interest and extend the life of toys.
Recommended Safe Chew Toys for Dogs
There are so many types and brands of dog toys on the market. As devoted pet owners, we understand the importance of selecting toys that not only bring joy to our furry companions but also ensure their well-being. Here are a few recommended options that prioritize both fun and safety.
Kong®-type products: A dog toy best-seller since the 1970s. A wide variety of toys are made from strong rubber and come in various sizes. Kong toys are widely recommended by vets.
West Paw Zogoflex® toys: West Paw's proprietary Zogoflex® material is completely recyclable and free from latex, BPA, and phthalate. They are durable and dishwasher-safe for easy cleaning.
Bully Max Indestructible Ball: This is a great, safe, and durable alternative to tennis balls. It is non-toxic and industrial-strength, so chewing won't result in pieces getting stuck in your dog's throat. Bully Max uses eco-friendly natural rubber making it dishwasher-safe.
Goughnuts rings or sticks: These toys are made from 100% natural rubber and have a "Chew Toy Safety Indicator" – a colored mechanism that indicates when to take the Goughnut from the dog and replace it with a new toy.
Tuffy Toys: Durable plush and soft dog toys for more gentle playing dogs or those that want a toy to cuddle and play with. They are made from multiple bonded layers of FDA-approved, non-toxic, food-grade materials that are safer, more durable, and longer-lasting than many other plush toys.

 
Remember to keep a watchful eye on your dog's play sessions and promptly remove any toys that show signs of fraying or breakage, as damaged toys can be dangerous. If you notice your dog's mouth or gums bleeding during play, it's a good idea to switch to a gentler option. Don't hesitate to reach out to your veterinarian if you're uncertain about a particular toy or product.
*Disclaimer: The recommendations we provide for dog toys in this blog are solely based on our own research. We do not receive any incentives, compensation, or endorsements from the mentioned brands.

Other Articles of Interest:
How to Avoid Toxic Dog Toys that Can Cause Cancer
Proud to be a Non-Profit with Guidestar Silver Seal of Transparency
How To Help Pay For Your Dog Cancer Treatment Cost: 7 Fundraising Ideas
What To Expect If Your Dog Has Cancer | Advice From A Vet
Blood Banks For Dogs | Why & How Your Dog Can Donate
Probiotics For Dogs: Are They Beneficial?
10 Warning Signs of Cancer in Dogs
Common Chemotherapy Side Effects