I met Rigby Miller on Instagram.  As I was trying to build the NCCF's Instagram account I was looking for a lot of dog people.  And there are a TON of dog people on Instagram!  The first post of Rigby's I saw was for a pair of socks that had his picture on it.  Sounds weird right that I would notice a picture of socks, but it drew me in, because we had ordered socks for the NCCF before and I wanted to see how they were doing it.  Then, I realized that Rigby's Mom and Dad were selling the socks to fund Rigby's cancer treatment.  This of course really caught my attention.  I was interested in his story and how they were doing with his treatment.  So, I reached out to them and sent them one of our Christmas ornaments with Rigby's picture on it.  I talked to Lisa about his diagnosis and treatment and felt her passion for fighting for Rigby to beat this cancer and her passion to raise awareness that this is an actual thing.  And of course her love for her young Weimaraner boy, Rigby.
When Gary and I found out in 2006 that Bailey had cancer, we were shocked.  We thought we knew a great deal about dogs and dog health.  We considered ourselves very involved dog owners, not your average dog owner, because we spent so much time showing and training our dogs, researching supplements and good food. But, mostly because they were our kids and we treated them as such.  We just had no idea that dogs even got cancer, let alone what to do about it.  Since we started the NCCF in 2006, we have found that so many others have that same reaction and thought.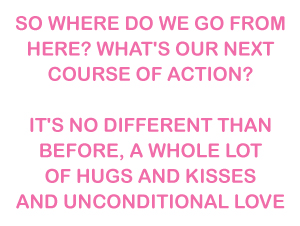 As I go through my daily life here, I hear many stories of the diagnosis, treatment and loss of our fur children.  I try to encourage everyone in some way as they go through the process.  I remember, as we have gone through a cancer diagnosis so many times, that it is the love for our dogs and the support our dog friends that helps us through this tough battle against canine cancer. This is why I reached out to Rigby's parents.
I want to share this video they made about Rigby's cancer and his fight. As I watched it I remembered my fur kids but as I kept watching it I LOVED the uplifting feeling they bring to fighting canine cancer with Rigby.  In their superhero outfits and with an outlook of unconditional love and hugs and kisses.  I am watching your fight Rigby, I pray that it has a good outcome and I pray for you and your family.  And I watch and listen to everyone else who has found the NCCF and shared their story.  I love to hear them and see the pictures.  FOR MY FURKIDS and for YOUR FURKIDS is why all of us here at the National Canine Cancer Foundation keep fighting every day to be a part of the cure!  Please remember, Together, We Are The Cure!
By Sara Nice
Photo & Video Courtesy: rigbymiller.com

Other Articles of Interest:
Blog: Financial Support for Your Dog's Fight to Beat Cancer
Blog: Cancer Does Not Necessarily Mean A Death Sentence
Blog: What To Do When Your Dog Is Facing A Cancer Diagnosis – Information Overload
Blog: Dog Cancer Warning Signs: Help! I Found a Lump on My Dog
Common Chemotherapy Side Effects