I woke up this morning to a wet nose. My favorite nose. The one that has told me for years that it is time to face the world. It was still dark outside. The house was full, but everyone else was still asleep. Harley wanted to go outside before dawn, just like he has needed too for the past few weeks. This morning was his last wet nose I will wake up too. The last morning I would ever sit outside with him in the fresh air.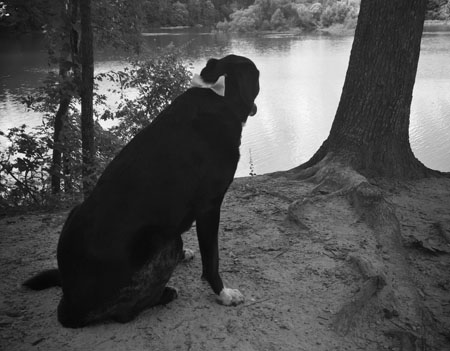 I sat on the steps of my parents house this morning with tears in my eyes and a smile on my face. We spent his last few days at his favorite place in the world. My parents home. It was his home for 5 years and no matter how sick he has been, he is always more comfortable there. I brought all of his things, his favorite dog bed, leashes and collars, and we stayed in the room I grew up in. It was as if we had never moved away, and he was able to relax with his people.
Harley needed me to continue smiling today. He looked exhausted and uncomfortable. I whispered to him as he walked around the yard trying to pee. I told him it was going to be okay. Not much longer buddy. Its going to be okay. He has been having severe trouble the last two days and I could not bring myself to put him through the discomfort of a catheter on his last day enjoying this fabulous world.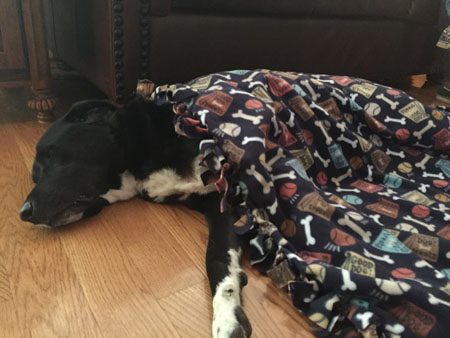 Instead we just hung out at the house. Over the last few days we have done artwork together. I have paw prints, nose prints, hair and feet impressions and have taken dozens of photos. My parents and sisters were all home to sit and enjoy just a few more hours with him. Long time friends came by and said there last goodbyes. He was unsure what to do with all the attention, but even as I watched him continue to get worse, he never stopped smiling. My stoic boy forever.
I decided that morning we would do his most favorite thing in the world. Hiking. For us hiking counts as a easy walk around the lake. As the afternoon continued to pass, I gave him plenty of extra treats, and my mom fed him most of her Bojangles lunch. How amazing is it that his first and last people meal is Bojangles. He has always loved there french fries and knows by smell before we even get there that he is about to get that tasty treat. He also got some extra pain medication before we went on a hike.
On the car ride to the lake, unlike him at all, he laid down and fell asleep. My boy is tired. Its time to go. But not yet, just  a few more hours baby, not yet. We have one more thing to do. He rested his head in my hands for the ride. When we got to the lake he seemed excited, so off we went. I told him that we would go as far as he wanted. And we did.
I will forever hold the memory of our last walk to myself. We went alone. Just my boy and I. We went slowly, smelled every tree, watched every bird. We went to the peak at our favorite spot to watch the people on the lake. Unbeknownst to everyone we passed that it was our last hike together. The last day. The Last Hike.
I wish I could say that I was ready for this. I was so blessed to be able to take him for one last hike and too know that I would choose the day I got to say goodbye. But I can't. This will never be easy. Nothing will ever prepare you for something like this. I read a study the other day that said the loss of a pet is like the loss of a close family member. They are family. Harley was my everything. My best friend. Nothing will ever replace him.
The pain I feel right now is more than I will ever be able to put into words. I have been through horrible things in my life, lost friends and loved ones. This is different. The loss of something so devoted to you, and so unconditionally is hard to describe. The phrase "ripping my heart out of my chest" comes to mind, but that is not even close.
I want to scream. I want to cry. I want this pain to go away. Just please someone make it stop.
My big brave boy, the love of my life, my devoted companion and best friend took his last breath at 1738 today. He is finally at peace and no longer in pain.
Now I must learn to move on, and I will never forget.
Harley, you are my world, you are my sunshine, and now you are my guardian angel. I will miss you forever.
Harley Tucker Benedyk • 05/15/2009-08/14/2016
"You are my sunshine, my only sunshine, you make me happy when sky's are grey,
you never know dear, how much I love you, please don't take my sunshine away"
Story reposted from:
https://adventuresofharleythelazydog.com/2016/08/15/the-last-walk/
By Harleys Mom