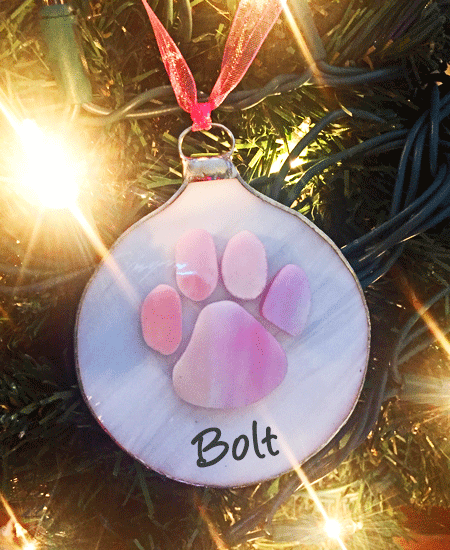 Last Thursday was the release date for our annual ornament and WOW was it a great day! We sold over 120 ornaments that day! I went up to the store office to chat with Kelly about the orders and processing and then I saw the ornaments. She had them all laid out, the names were drying and waiting to be packaged up and sent to each of their new homes. I looked at all the names – Rico, Bronson, Thor, Bean, Ronan, Jake, Izzy, Jazz, Brandy, Watson, Champ, Hennessey and so many more. All with their own pink paw, all returning home to the people who love them. There are so many and they are all so loved and each one of those dogs are so special and just as unique as the ornament that now bears their name in honor.
Gary and I don't get to travel to shows anymore to meet and talk to everyone about their story and our story. I miss that, it was a favorite part of what we do here at NCCF. But now I think I have a new favorite time of year, ornament time. It is a time where I get to see the names and know there are so many of you there with the same type of story that we have and that in some way, that we are able to help each other through this cancer thing. I love knowing that these ornaments are not only going back home and honoring so many, but they are funding the National Canine Cancer Foundation's mission and we are truly living out – Together, We Are The Cure.
I would like to hear your story, see your pictures and share with others. Email me when you get a chance.
I look forward to seeing all 800 of the ornaments come and then go back home where it will find a place of honor in your home as a small reminder of a big life you shared with a very special dog.
Sara Nice • Co-Founder, NCCF