Every year, Debbie Cannavale makes a "Best Of" calendar to sell to followers of her popular Instagram and Facebook pages, which feature the daily adventures of her Leonbergers. She donates the money raised through calendar sales to an animal charity. Sales of the 2021 calendar amounted to $3700 and the proceeds have been donated to the NCCF in memory of Frank, the Leonberger dog breed Debbie lost in September to osteosarcoma at only four years of age.
The Leonberger dog breed is believed to have been bred by Heinrich Essig, a 19th-century politician and entrepreneur of Leonberg, Germany. The product of Saint Bernards, Newfoundlands, and other large working breeds, this dog was made for royalty…literally. Napoleon III, Tsar Alexander II, the Prince of Wales (later King Edward VII), and musical composers all owned Leonbergers.
Still majestic, the Leonberger dog breed is a strong breed that has become known as a great working dog for farms, fields, and waterfronts. Leos are actually so versatile that they are more light-footed than you might think and swim very well.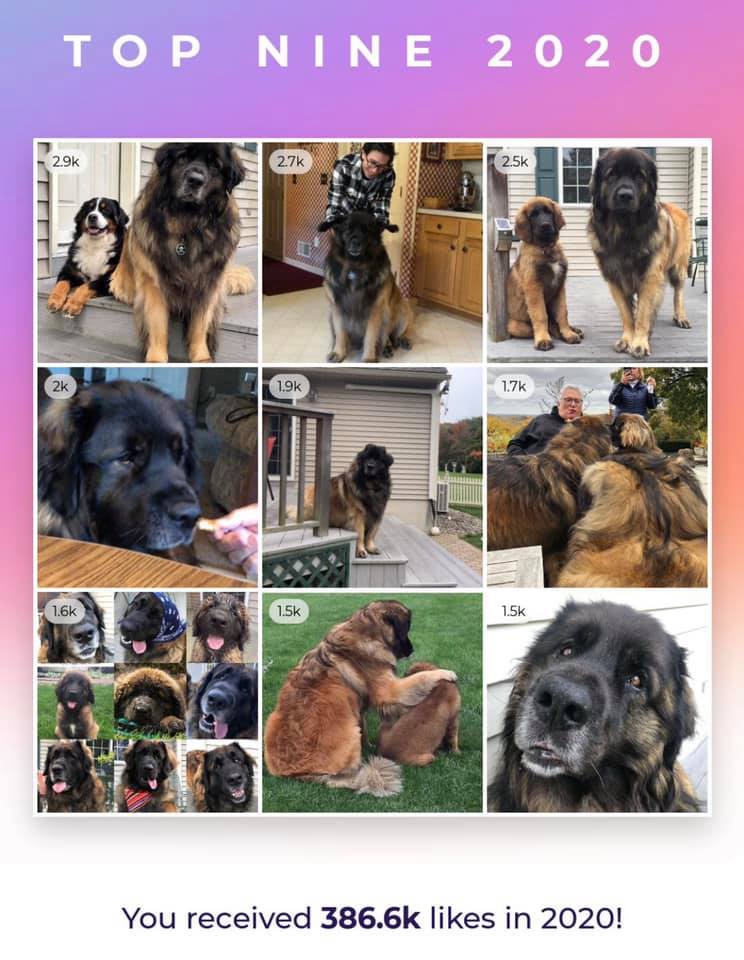 It's no wonder thousands of Instagrammers were quickly drawn to Debbie's page, which was her son's brainchild. This was April 2015 and at the time their Leonberger Ralph was about a year old. The original idea was that the page would be hers and would include a few photos of Ralph.
She says, "It wasn't long before I thought it would be funny to speak as Ralph and make funny captions to match the tons of pictures I'd take of him every day." Soon after starting the Instagram page, Debbie turned to Facebook and created an account there for him as well.
And then there were two…Debbie explains, "Ralph has a Bernese Mountain Dog friend that lives down the street who is a month older than him. Ralph and Phil have been friends since they were very young puppies. They'd play several times a week so Phil would be included in the posts."
What just seemed amusing to Debbie became a daily thrill for others. The dogs' following increased, and people seemed to look forward to seeing posts every day. Debbie adds, "In fact, if I didn't post every day, I'd get messages asking if they were okay. After a while, people started saying I should write a book, or do a calendar. I settled on a calendar but felt I should donate the proceeds to an animal charity. The response was great, and "The Best of Ralph and Phil" became a yearly thing, each year choosing a different charity to donate to."
Ralph was such an easygoing puppy, that Debbie convinced her husband we should get another Leonberger. After all, they had three dogs before and it seemed like Debbie might be a good dog trainer. And to top it off, she pointed out that Ralph would enjoy having a playmate, and having two dogs like Ralph would be a piece of cake.
Fate stepped in. "It just so happened Ralph's littermate was having a litter, and we were able to bring home his nephew, Frank," Debbie says.
She recalls, "First, not all Leonbergers are created equal, and my dog training experience really had nothing to do with Ralph being so good. Frank walked into our lives and took over. He was the cutest little tornado we ever saw. Getting into trouble was his hobby. He tormented Ralph constantly, climbing on him, eating his food, stealing his treats and toys, but Ralph was great with him. He let him get away with everything."
Frank's antics were great fodder for a ton of pictures and videos to post on social media. "People loved hearing about him and watching everything he did. He was hilarious. He was so sweet and dopey you couldn't help but fall in love with him. He was silly, wild, but so loving. Followers increased like crazy, mostly through word of mouth. People couldn't wait to see what Frank was up to."
With Frank in the family, the calendars became "The Best of Ralph, Frank, and Phil."
Everyone watched Frank grow to be about 2-3 inches taller than Ralph. According to Debbie, "He was much bigger than the average Leonberger, 208 pounds of pure love."
The dogs loved their fame. "People asked if they could come and meet them, sometimes they did. When we walked them in town, people would yell their names as they drove by, and people would constantly come over to pet them and take pictures with them."

When she found out Frank had cancer, Debbie was devastated and wasn't sure she was up to putting it on social media. However, after she shared Frank's passing, which came only two weeks after diagnosis, she found solace in the response. "The outpouring of love and support was overwhelming. I received thousands and thousands of comments, messages, and texts. I knew people loved to see the daily posts of their antics, but I had no idea the scope of it, and how much people looked forward to them, and how much their days were brighter because of them. When I decided to do the 2021 calendar in memory of Frank, the response was amazing. I had to reorder calendars four times, and we've sent them all over the world."
Thanks to the generosity of the dogs' followers, the memories of the family's "hysterical wild child" will be cherished by many and the proceeds from the calendar will help the fight to eliminate dog cancer.
Although Debbie and Ralph still miss Frank terribly, it is clear that he was here to bring joy. "The life and laughter he brought into our house is immeasurable. His personality was as big as he was."
Follow the dogs' adventures:
Facebook:  Ralph Cannavale
Instagram: ralphslife2
Want to raise funds to fight canine cancer? Simply create your page and share!

Other Articles of Interest:

10 Warning Signs of Cancer in Dogs