Dierks Bentley recently lost his four-legged best friend, Jake, to cancer, but he sure has a wonderful keepsake to remember him by.
A 14-year-old fan named Sydney Lawton immortalized Bentley's faithful companion in a beautiful painting and sent it to the singer. Bentley was so moved by the gift that he posted a picture of the painting to his Instagram, writing, "This painting of my dog Jake from 14 yr old Sydney Lawton really blows my mind and hits my heart hard. Thank you."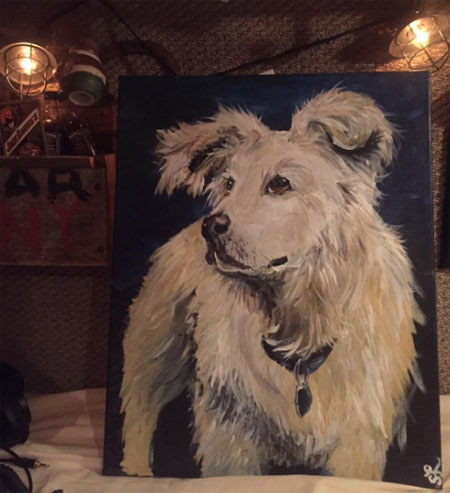 Jake passed away in July after battling canine cancer. Bentley was devastated; he rescued the mixed breed dog from the pound back when he was still a struggling singer-songwriter, and Jake had been by his side through all of the changes that had come his way since. He even brought his little buddy to the opening of his Country Music Hall of Fame exhibit in March, and spoke of him fondly to the reporters on hand.
"Jake's been with me through every phase of my career, since before I had a publishing deal … before I even had a gig, really," Bentley recalled. "When I got my first gigs downtown, he'd be waiting there in the windowsill. He actually wore out a little spot in the couch where he'd wait for me. I'd come home real late, and he'd be there sitting in the window, putting in his time. Those were his years of grinding, sitting in the window waiting for me."
Bentley tells Billboard that he was afraid he'd have to have Jake put down last November.
"On my birthday, November 20 [2015], I found this bump on his neck. I was like, 'This doesn't feel right. I've been petting this dog for 15 years. That's new,'" he says. "I took him in and we found out he had lymphoma. We had to get that spot removed as part of the process."
After Jake came home, he could no longer walk, and Bentley and his wife made the heartbreaking decision to have him euthanized. But when the vet came to do it, he realized the dog had a slipped disc, and told them to crate him for two weeks to let him heal. Bentley and his family got to have six more months with Jake before he died.
Bentley's latest album, Black, features a song about Jake titled "Can't Be Replaced," and the singer also paid emotional tribute to Jake at a recent concert by singing "Every Mile a Memory."
"It's been rough," he says. "I try to be conscious of all the suffering and true sadness in the world. At the same time, I can't deny how I feel, and it's been tough."
Dierks Bentley Writes Heartfelt Song for His Dog, Jake
Story reposted from:
http://tasteofcountry.com/dierks-bentley-dog-jake-fan-art/
By Sterling Whitaker