The NCCF receives email daily asking questions about anything and everything to do with the NCCF and cancer.  It is my privilege to read and respond to all the emails sent in. My favorite ones to read and answer are those people who take the time to write about their sweet pup who they are losing or have lost to cancer. Yes, they are sad because of the loss and the struggle, but what I enjoy is hearing how the pups have touched our lives and souls and how people can still share them with you through words.
On this day Julia contacted me because she was inspired to do something to honor the passing of her pup Patch.  She was in the middle of doing a FaceBook fund raiser and she had a few questions on how we received the donations from Facebook and when they would arrive. I very much enjoyed finding out that she was doing the fund raiser and getting to know a little about her and Patch in the process.  One of the best things about working at NCCF is getting to meet the people and their pups and hear the stories.  After all was said and done, Julia raised $440 just by sharing Patch's story on her FaceBook fundraiser with her friends and family. It is such a simple way to Join the Fight and become part of the cure.  Even now, Patch is still fighting cancer. Julia is also thinking about doing a neighborhood walk to raise more funds for NCCF in honor of Patch.
I want to share Julia and Patch's story with you today. It is an inspiring one and I hope it touches your heart, the way it did mine.
Julia & Patch:
I adopted Patch in Corvallis Oregon when he was about 3 years old. He was the saddest looking dog at the pound so I knew that he was the one for me! I wanted to take him home and give him the best life possible.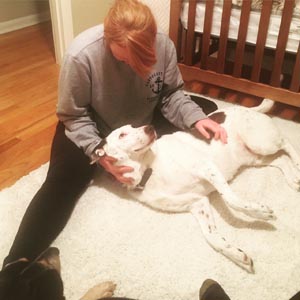 Patch and I were inseparable. We did everything together. Going on hikes all over Oregon, walking on the beach, playing ball in the back yard, and going fishing with me, my husband, and our other dog, Emmett. People often joked that Patch had a better life than most people!
Around Patch's 11th birthday we noticed a limp on his front right leg. I had taken him to 3 different vets and no one knew what was wrong. One vet thought it was arthritis, one vet thought it was a sprain, and one vet thought it was just something that will go away on its own. We tried laser therapy and arthritis pain medication, but the limp continued to get worse. It had been 3 months of uncertainty and more questions than answers. Finally, I took him to a specialist where they did x-rays. The specialist discovered some noguals in his chest, leading him to believe it was cancerous. Throughout this entire process, Patch was happy and his goofy self, showing such amazing strength, even while being in pain.
I didn't want to believe that it was cancer, but at my 4 month pregnancy appointment I got a call from our vet, confirming that the test showed cancer in patch.
Patch had a very rare form of nerve root cancer causing his limp. We took Patch to a spinal specialist and were forced to make a decision. We could either do nothing and make Patch comfortable, in which he would probably have 1-3 months of life left in him. Or we could remove his leg, and hope that the cancer did not reach his spine, meaning with amputation, the cancer would be removed. We obviously opted to remove his leg, and prayed that the cancer would be taken out and that we would be the owners of an adorable "tri-pawd".
The surgery took all day, and it was finally time to pick Patch up from the vet. I walked in the room and he instantly started wagging his tail. After a few moments of happy/sad tears, I embraced Patch and sat with him while the vet explained their findings.
Unfortunately, the cancer had spread into his spine and Patch had 1-5 months to live. My heart shattered that day, but I knew I had to be strong for Patch and spoil him rotten.
Patch had his surgery on November 8th 2016. The second day after Patchs surgery, he wanted to play ball! He was so full of life, right up until the end. After a few weeks of healing, life went back to normal. We went on walks, even though they didn't last as long as they used to- we went to the beach, we still went on small hikes, and Patch still played ball in the backyard. Patch even got to meet my son, Levi, who was born in January.

In May of 2017, Patch started slowing down. Toward the end of May, he couldn't even get down the steps. At this point, we knew it was time. Patch was telling us that he was ready.  Patch had made it over 6 months after his surgery, which was much longer than expected.
Memorial day weekend Patch passed away peacefully in our backyard. It was a sunny breezy evening, and me, my husband, and our other dog Emmett, were all with Patch in the grass under the pear tree. The breeze danced through the leaves and the smell of summer was in the air.  His head was in my lap as I held him and told him how much I loved him.

Patch was the sweetest, strongest, and happiest dog I have ever known. He touched everyone he met and lit up the room with his goofiness. He loved cuddling on the couch, playing ball, and hiking through the woods. Not a day will pass where I don't think about Patch and his kind, happy, and beautiful soul. He got me through my entire pregnancy as well as my postpartum depression. I strongly believe that he was put on this earth to bring me, and everyone he met, happiness. Patch left this earth knowing that I needed to give all my love and attention to my newborn son. He knew that It was time for him to go and that his work was done.

I hope that Patch's story of hope, perseverance , and kindness reaches many people. Don't give up, and have faith in your pet. Respect them. Love them. Cherish them. And give them the best life you possibly can.
If Julia has inspired you to do a Facebook Fundraiser, here are the facts you need to know!

Follow the steps below to create a fundraiser on Facebook.
Step 1: Click "Create Fundraiser" located under Fundraisers on the left column of your news feed.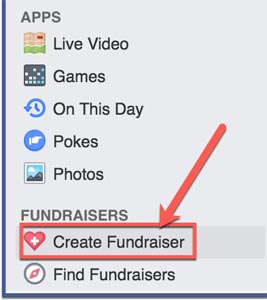 Step 2: Select Nonprofit – Type "National Canine Cancer Foundation" in search bar. Fill-up appropriate information and click "Create".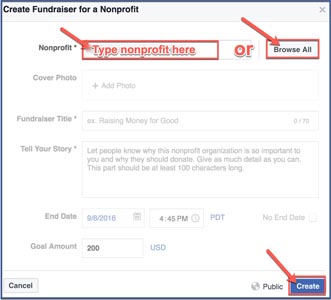 Step 3: Choose a cover photo and fill in the fundraiser details.
Step 4: Click Create.
The donations collected through Facebook are sent to Network for Good who then sends funds to NCCF in approximately 60 days from the end of the fund raiser.
Post by: Sara Nice • Co-founder, NCCF
Story by: Julia Mack