Rob Kugler, a former marine from Nebraska, was devastated when he learned his dog, Bella, had terminal cancer.
The chocolate lab was diagnosed with osteosarcoma – cancer of the bones – in May 2015, and the decision was taken to amputate her front left leg. "If you don't want to take the leg," the vet told Rob, "you should put her down today, because she's in so much pain. However, it won't save her, because the cancer is in her lungs, and you're looking at 3-6 months."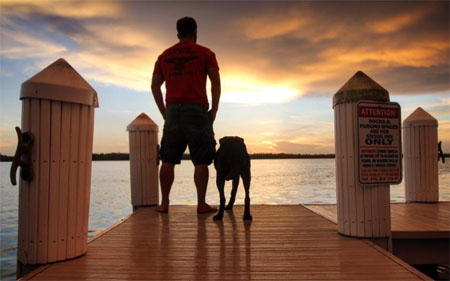 Robert and Bella CREDIT: ROBERT KUGLER/FACEBOOK
However, 14 months on Bella is still going strong – and recently embarked on her second long-distance trip around the US.
"The first was supposed to be her 'Farewell Trip,' Rob writes on his website. "We traveled for five months, and covered thousands of miles … with many havens on couches and guest beds of the friends I've been fortunate enough to make across the country in my short lifetime. It was an incredible and unforgettable experience."
However, three months after they returned home to Nebraska, with Bella still in good shape, Rob decided to embark on another trip – one they're still on.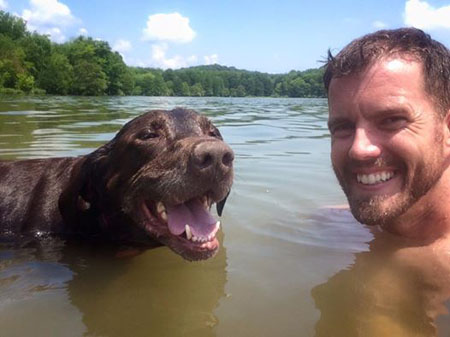 "Starting only a few hundred miles to Southern Missouri, the trip got extended to Kentucky, then to Nashville, then clear to the Carolina coast to help a friend," Rob says. "We hurled ourselves right back into it, again, without a plan other than seeing who we know where and who would like to meet Bella along the way."
He's documenting his and Bella's adventures on his website and on Instagram. "I lost my brother in Iraq in 2007 and my oldest sister in a car accident two Easters ago," he told Mashable. "When you see lives end shortly before people get to do many of things they dream of doing, it changes your perspective on life."
In an interview with WOWT News he added: "I feel like right now this is my purpose. It's chapter in my life right now is just exploring with my dog."
Story reposted from:
http://www.telegraph.co.uk/news/2016/07/13/man-takes-terminally-ill-dog-on-farewell-cross-country-road-trip/
By  Adam Boult