In September 2001, amid the twisted pile of steel beams, concrete and ash where the World Trade Center once stood, 300 or so search dogs worked long hours and used their powerful noses to try to find survivors.
On Monday afternoon, the last of those search dogs died at age 16 with her longtime handler and best friend by her side.
Bretagne (pronounced "Brittany"), a whip-smart golden retriever with feathery fur and a sunny smile, lived an adventure-packed life until the very end. In recent weeks, though, she began experiencing kidney failure and slowing down. When Bretagne failed to do her favorite thing for three consecutive days — eat — her owner Denise Corliss realized it was time to say goodbye.
"She was really anxious last night and she just wanted to be with me," Corliss told TODAY on Monday. "So I laid down with her, right next to her. When she could feel me, she could settle down and go to sleep. I slept with her like that all night."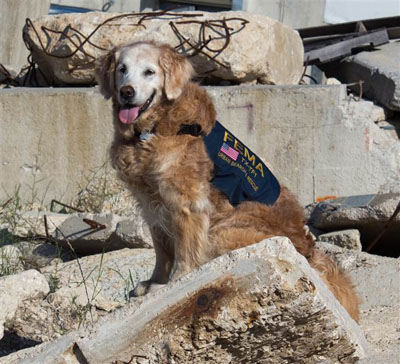 Even after her formal retirement from search work at age 9, Bretagne still loved to work.
This photo was taken at a disaster training site for dogs in Texas in July 2014. (Courtesy of Denise Corliss)
Denise Corliss and her husband Randy Corliss brought Bretagne to Fairfield Animal Hospital in Cypress, Texas, where the dog received a special send-off from admirers of her years of service. In addition to scouring the pile at Ground Zero in New York after the 9/11 terrorist attacks, Bretagne and Corliss deployed as a search team in response to Hurricane Katrina, Hurricane Rita, Hurricane Ivan and other disasters.
Representatives from Texas Task Force 1, the Cy-Fair Volunteer Fire Department and other agencies stood at attention and saluted Bretagne as she entered the veterinary office on Monday afternoon. They saluted Bretagne again as she departed the animal hospital with her body draped in an American flag.
"This was a very small way for us to pay tribute to a dog who truly has been a hero," Cy-Fair Volunteer Fire Department Captain David Padovan told TODAY. "Just because she's a K9 doesn't make her any less part of our department than any other member."
Bretagne was to be transported in a formal procession from Fairfield Animal Hospital to Texas A&M University in College Station, Texas. There, she will undergo an autopsy as part of a long-running study of 9/11 search dogs.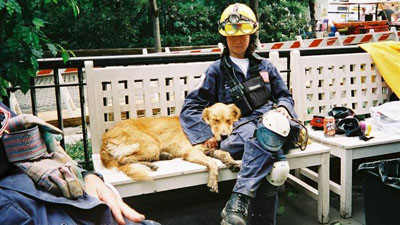 Denise Corliss and Bretagne take a break together at Ground Zero in 2001.
The pair worked 12-hour shifts at the site for nearly two weeks. (Courtesy of Denise Corliss)
"(Bretagne's) partnership with Denise Corliss was magical," said Dr. Cindy Otto, a veterinarian with the Penn Vet Working Dog Center who has spent years tracking the health of 9/11 dogs. "The two of them touched lives throughout their careers together, not only in search and rescue but even after her retirement."
Bretagne retired from formal search work at age 9, but she never lost her love of adventure or her work ethic. Her retirement years turned out to be almost as epic as her younger years, in large part because Corliss realized Bretagne needed tailor-made physical and mental stimulation as she aged.
At age 13, Bretagne began experiencing so much stiffness and joint pain that she could no longer climb the stairs in her home. Corliss installed an above-ground pool in her backyard and helped Bretagne to swim in it for at least 10 minutes a day.
"It makes a huge difference," Corliss recalled. "She started doing the stairs again. Then we started focusing on ways to keep her mentally active. … Helping kids with their reading in school (was) great for that."
Until very recently, Bretagne volunteered as a reading assistance dog at an elementary school near her home. She also swam regularly and took daily walks around a pond, where she loved to chase squirrels and ducks.
Bretagne made national news at age 15 when she returned to Ground Zero with Corliss for the first time since the 2001 terrorist attacks. NBC News' Tom Brokaw interviewed Corliss at the 9/11 Memorial and also spent time with Bretagne, who was a 2014 finalist for the American Humane Association's annual Hero Dog Awards.
Bretagne generated even more headlines when she turned 16. In honor of Bretagne's birthday in August 2015, BarkPost coordinated an epic "Sweet 16" bash in New York City that included an illuminated billboard in Times Square and the dedication of a cobblestone in her honor on the plaza of the 9/11 Memorial.
In late 2015, Bretagne became a star of a non-fiction book about senior dogs and met with former President George H.W. Bush at the George Bush Presidential Library in College Station, Texas.
"She just keeps on going and enjoying life," Corliss told TODAY in March of this year. "She's just such a happy dog."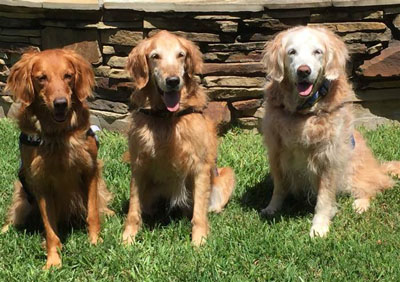 Denise and Randy Corliss' highly trained golden retrievers, pictured from left to right:
Taser, Aid'N and Bretagne. (Courtesy of Denise Corliss)
Bretagne would have turned 17 on Aug. 25. Just one month ago, Denise and Randy Corliss had to say goodbye to another of their dogs: Aid'N, a retired search dog who died of cancer at age 11. The Corlisses still have Taser, an active working search dog.
"Their personalities are all so different, and I've tried hard to capture memories — snapshots — of their personalities," Corliss said. "There are just so many little things that I'm really going to miss."
Bretagne's life story is featured in the bestselling book"My Old Dog: Rescued Pets with Remarkable Second Acts" by TODAY writer Laura T. Coffey. Bretagne's chapter includes comments from NBC News' Tom Brokaw and exclusive photographs of Bretagne at the 9/11 Memorial taken by Lori Fusaro.
Story reposted from:
http://www.today.com/pets/never-forget-last-9-11-ground-zero-search-dog-dies-t96676
By Laura T. Coffey