August 26th is National Dog Day—a day to remember and recognize all that these wonderful creatures do for us without question. Dogs save lives, keep us healthy, guide our blind and disabled, protect our neighborhoods, and bring joy to our families. Dogs do so much good for the world, yet so many of them end up neglected, abandoned, and abused.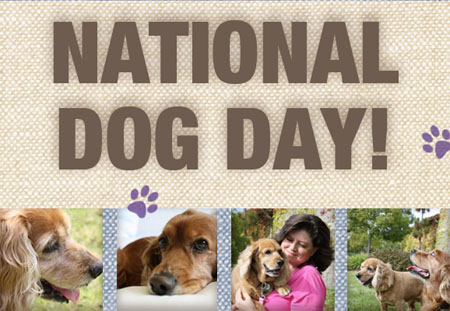 Here are 20 great ways to celebrate with your dogs:
Adopt a dog from a shelter or local rescue organization.
Buy your dog a fun new toy.
Teach your dog a new trick.
Take your dog on a hike.
Have a National Dog Day party and invite all your 4 legged friends.
Snap a few pictures of your dog and share them with friends online or enter them in a contest.
Have a caricature or portrait drawn of your dog.
Give your dog a bath or have him groomed.
Visit your local dog park.
Take a trip to the closest dog friendly beach.
Buy a fashionable new leash and collar.
Try a new DIY treat recipe.
Plan a play date with your dog's favorite doggy friend.
Learn dog first aid and CPR.
If your workplace allows it, take your dog along for the day.
Give your dog some extra belly rubs.
Don't have a dog? You can still celebrate:
Donate supplies, money or your time to a local shelter.
Walk a neighbor's dog.
Watch a movie starring a dog.
Look into becoming a foster home for dogs in need.
Whatever you do, remember to celebrate all the wonderful things that dogs do for us each and every day!
Article reposted from:
http://www.thatpetblog.com/2015/08/20/20-ways-to-celebrate-national-dog-day
By Megan Krchnar