The best gifts are the ones that have a personal touch. Forget the usual commercial hype for Mother's Day, dog moms would love to have a unique memento created by their pup. How does your pup create a unique homemade dog gift? With their paws or nose, of course!
Here are some easy ideas for lasting keepsakes, made with your best bud's artistic flair. Family members can take note and plan ahead to surprise the dedicated dog mom with a homemade dog gift she will truly appreciate.
Paw Print Card
Any parent knows how touching it is to receive a handmade card from our kids for our birthday or any other occasion. The same is true for dog parents. Imagine how happy a dog mom would be to get a card made by her beloved pet. This can be a greeting card or a card to be framed. You can find kits online and many frames allow space for a photo of your canine friend as well. Covering the print with glass also happens to be a great way to keep the print well protected.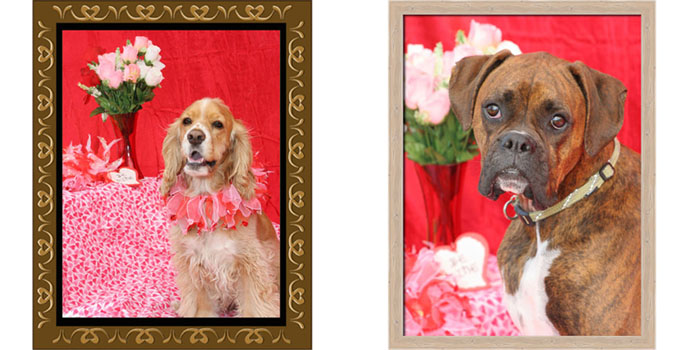 You can also make the keepsake even more special over time by getting a paw print when your pet is a pup and then getting another paw impression when your dog is fully grown. When your pooch becomes a parent, that's another moment to treasure by getting prints of the parent and pup. So adorable! This homemade dog gift is one of the easiest and quickest ones to make this holiday.
Just one tip: it's best to choose a water-based ink pad and acid-free paper to make sure the print looks good longer and always make sure you let the print dry overnight.
Precious Metal
Did you know that your furry friend's paw or nose impression can be turned into charms of various sizes, remembrance bands, signet rings, bracelets, earrings, pins, dog tags, or even key fobs? Most of these can be made even more special by adding a customized engraving or diamonds or birthstones.
The most beautiful benefit of this type of gift is that when mom runs her fingers across the surface of this jewelry, she will feel the details of the print. It's a great substitute for the actual feel of her pet's affectionate nuzzle or their paw and she can touch it at any time.
The possibilities today are almost endless. What's more, the process is easier than you may think. All you have to do is gently press your pet's paw or nose onto ink, then onto cardstock paper and the replica will be transferred to the precious metal of your choice. Some companies will also give you an original print and keep ink print on file, in case you want to order additional polished keepsakes later. It's a great way for any dog mom to have a visual reminder of her pet with her forever.

Paw Impressions in Earthy Materials
Nowadays, it's easy to find a kit that's designed to help you get a tactile impression of your pet's paw or nose. Depending on the look and feel you prefer you can choose from clay, plaster, or silicone and gently press the pup's paw or nose into your selected material while it's soft. The advantage of silicone is that it isn't breakable like clay or plaster, but you choose what will suit your dog mom best. Each type of material will have a slightly different finish.
If you want a truly homemade dog gift, you can use salt dough. Just make sure you knead the dough for 5 – 10 minutes and roll it out to approximately 1/4″ thick. You also can use a cookie cutter to create the shape for your print either before or after you create the impression. Press your pet's paw into the salt dough firmly and then remove it gently. Bake their impression at 300°C for 30 minutes.
Whichever material you choose, when it dries and hardens, she'll be pleased with the result. This paw or nose impression can be framed or can be turned into a charming Christmas ornament, which will need to be kept out of the reach of the playful rascal though, as it can be toxic to them.
Conclusion
Any dog mom will want to keep the memory of her canine companion alive for years to come and a paw or nose impression is the perfect way for her to do that. One look or touch will be enough to bring a smile to her face.
Best of all, there are now so many easy ways to create a lovely keepsake that anyone in the family can take their pick and just go for it! From a simple paw print greeting card to exquisite personalized jewelry, she will cherish whatever you choose because it's uniquely made by her pup. You'll help her keep her best bud in her life in a tangible way forever.  This Valentine's Day, make a homemade dog gift to make the day special.
Other Articles of Interest:

Top 10 Ways to Make Your Dog Feel Special on Valentine's
10 Warning Signs of Cancer in Dogs