Pet owners know veterinarian bills are costly, and that price goes up even more when that furry friend is diagnosed with cancer.  There is a central Indiana veterinarian office that is helping financially struggling dog owners keep their pets alive.
Glenn Cox is one of those pet owners.  The Columbus man talked fondly of his best friend, his sidekick, his dog Isabelle.
"She was the runt of the litter," said Cox.  "No one wanted her and I took her."
Cox said his pup has been with him through some really tough times too.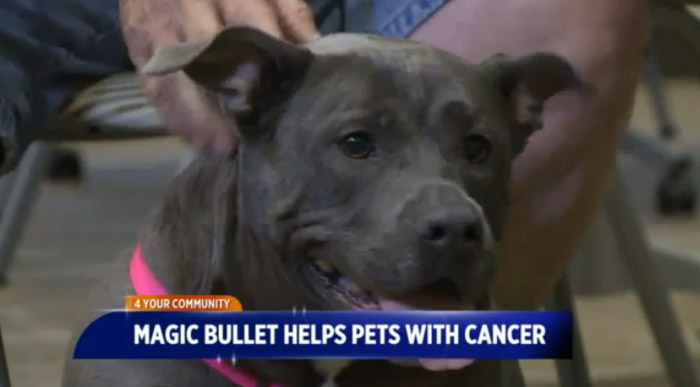 "After my heart surgery and stuff it was me and Izzy there," said Cox.  "She kind of got me through the surgeries and kept me company every day."
So when Cox learned Isabelle had lymphoma, he was heartbroken.  Isabelle's oncologist said the shock didn't end there.
"Then we start talking about just how much everything costs," said animal oncologist Dr. Kerri Rechner.  "Per treatment it's somewhere between $400-600 for chemotherapy for a dog her size, and when you do the whole treatment for lymphoma you're talking about 16 treatments."
"Astronomical," Cox admitted.  "I just couldn't believe it.  I thought well I'm just going to have to put her to sleep.  I didn't know what else to do."
The staff at VCA Advanced Veterinary Care in Fishers told the retired military veteran about a program called the Magic Bullet Fund which helps owners with dogs diagnosed with cancer.
"The Magic Bullet Fund asks everybody who applies to put forth their own effort to raise funds for their own pets," Dr. Rechner explained. "So it's definitely a situation where they ask you to work."
Cox's application was accepted, and he raised the other half of the money for Isabelle's chemotherapy through local donations.  Magic Bullet Fund paid for the rest.
"When she called and told me we got accepted I mean it just lit up the whole house  even Izzy got excited," said Cox.
The even better news came more than a month into treatments.
"She's in remission," said Dr. Rechner.  "So she's responding very well to treatment."
Cox pets his beloved Isabelle in the animal hospital. She smiles.  Her tail wags.  She's happy.  "She's doing well now. I can't say enough about having this happen," said Cox.
The Magic Bullet Fund has helped more than 500 dogs across the country get their cancer treatment.  You can donate to the Magic Bullet Fund anytime to help other dogs and their owners.
Story reposted from:
http://cbs4indy.com/2016/09/12/donations-become-magic-bullet-for-dogs-with-cancer/
By Marianne Lyles