A FAMILY has spoken of their devastation at the loss of their beloved dog after a last-gasp effort to save his life ended in heartbreak.
Poor Henry the Doberman passed away only days after his family had come up with a plan to pay for his treatment.
But they had to admit defeat when they were told the 'watermelon-sized' tumor growing in his body had past the point of no return.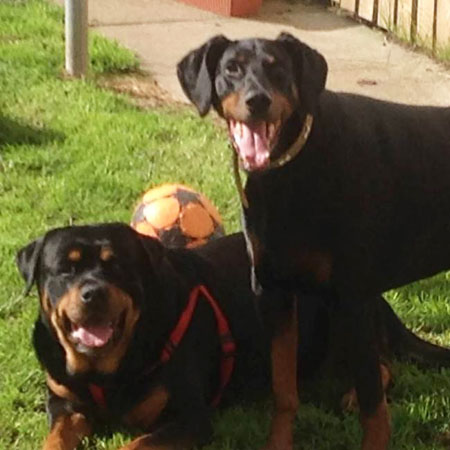 Cherri Brooks, 31 and partner Steven McMinn, 32, desperately tried to raise funds to pay for potentially lifesaving vet bills.
But on Monday the Foxbar couple with Cherri's children Ellie and Coby as well as Rottweiler Tyson, Jack the Shih Tzu and Murphy a Lhasa Apso had to say a final farewell to Henry.
Cherri adopted eight-year-old Henry in 2014 and despite never being introduced to other dogs before, got on well with the other pooches in the house thanks to the love and attention given by the family.
Steven, who runs a small kennels in the area, said: "It took a lot of hard training to get them to be a pack but Henry and the other three dogs were great together.
"Henry has always been a big favorite of ours from day one, just because of his circumstances like not getting walked or mixing with other dogs.
"It was so sad, all dogs should get to meet other dogs as that's the only way to get them used to each other.
"When we discovered he was unwell, I tried my best to get the big guy sorted at the vets.
"We didn't mind paying but having to put in hundreds of pounds in one go is a lot.
"We tried looking for a vet that would accept payments every pay day, then we contacted Dogs Trust and PSDA but they couldn't help either.
"I managed to get the money together for his biopsy and lab fees as I needed to know what we were dealing with."
The couple received the lab results last week and the vet wasn't willing to operate on the tumor due to its location in Henry's head.
Steven got some pain relief for Henry to see if that helped but as he was unable to walk or eat, the vet recommended putting Henry to sleep.
The family spent the weekend together before taking him to the Love Street vet on Monday while the children were at school.
Steven said: "I don't know how long he would have lasted without treatment. Since we had him in for biopsy he went dramatically downhill.
"If the vet was to remove the lump she said she'd have to remove most of his side and isn't willing to do that as the lump is 12 inches long.
"It looked as if someone had put a water melon inside him.
"His back legs looked as if they were giving way due to his front paws having all the weight on them and he wouldn't even eat his favorite foods such as sausage and cold meat.
"The lump only started showing recently but seemed to be getting bigger day by day.
"For all we know he could have had it before we got him.
"We only had two years with him which is nothing really. That's what makes it so hard to see him go.
"All the kids in our area love all our big dogs as they are so friendly. He will be missed by everyone."
A spokeswoman for the animal charity PDSA said: "Owning a pet is a big responsibility and taking care of their health and wellbeing is an important part of ownership.
"Routine preventive care, such as vaccinations and flea treatments, can be planned for, but it's also important to plan ahead for any unexpected vet fees, should your pet become ill or get injured.
"There is no NHS for pets, so the cost of vet care can run into hundreds, sometimes thousands of pounds.
"Getting pet insurance is the best way to budget for these unforeseen costs, or if that isn't possible then putting aside a small amount of money each month into a savings account for your pet is a good idea.
"Most pets will need veterinary care at some point in their life, and as they get older pets can be prone to more illnesses.
"For more information about caring for pets, visit pdsa.org.uk/pethealth"
Story reposted from:
http://www.the-gazette.co.uk/news/14488536.Dog__39_s_loss_to_cancer_highlights_costs_of_caring_for_pets/