Rubbing his hand over Hershey's head, Trevor Lilley adjusted the paws of the chocolate lab laying on his lap.
Hershey looked up at the 10-year-old boy briefly before dropping his head down again.
Hershey was mostly lying on a dog bed at the end of a couch, but Lilley had carefully squirmed beneath the dog to pet his face and shoulders.
Beverley Brown, Trevor's grandmother, watched the two as tears filled her eyes.
In June, Hershey, who had just turned 4, was diagnosed with canine cancer. Since that time, Brown's grandson had cared for the dog.
"They gave us some options," Brown said. "But none of them were good."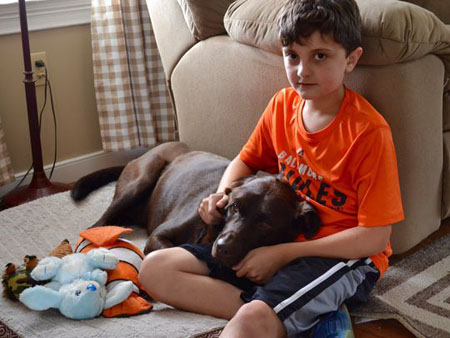 Trevor Lilley, 10, devoted his summer to taking care of his nana's dog. Hershey, 4, was dying of canine cancer.
(Photo: Traci Moyer/The News Leader)
Brown said she had gone on vacation in June and when she returned, the family noticed Hershey had a slight limp. At first, the family vet thought Hershey had torn a ligament, Brown said. But when the dog's condition continued to deteriorate, additional testing revealed a cancer diagnosis.
"They showed us the X-rays and his whole pelvic bone looked like a sponge," Brown said. "It was completely full of cancer."
"It looked like it had dissolved," Trevor said as he reached for a dog toy.
Brown was told Hershey's leg could be amputated, but the dog would still require chemotherapy and his diagnosis for survival after the surgery was only eight to 12 months. The family discussed putting the dog to sleep, but the vet did not feel it was time, Brown said.
"We weren't sure what we were going to do," she said. "He wouldn't eat and wouldn't drink so we just kind of made him hospice."
Brown, who works as a hospice nurse, said her grandson offered to spend his summer caring for Hershey who required medication 24 hours a day. He told his grandmother he would come to stay at her house while everyone was at work.
"Usually he just sleeps all day," Trevor said.
But Trevor's return to school this week meant no one could stay at home with Hershey to give him his medicine, help him outside or clean him up after he went to the bathroom.
Seeing the dog struggling with pain, the family said it was time to euthanize Hershey and made special arrangements last Saturday for the procedure.
Sitting in their living room the day before Hershey was put to sleep, Brown and her husband openly grieved for a loss that had yet to occur.
"This dog was a holy terror when we got him," Brown said. "He chewed everything he could chew."
Trevor was quick to point out the corners of the coffee table and end tables that showed signs of a nibble or two.
Roland Brown, Trevor's grandfather, listed various items that had found their way into the chocolate lab's mouth, including a remote starter for a vehicle and a television remote controller.
"He dug up the electric fence," Trevor said tossing a red ball toward Hershey, who showed no interest in playing.
"The first year got pretty expensive," Roland Brown said with a laugh as he brushed away at the wetness near his eyes.
"We contemplated getting rid of him," Beverly Brown said trailing off in silence.
Lilley stayed pretty quiet during the discussion and was willing to talk about other family pets, but contributed little to the conversation about Hershey.
Ginny Brancato, founder of RainbowsBridge.com, said Trevor's silence is common for a child of his age.
Brancato, who lives in Florida, started a website for people who have lost a pet in 1998. She now has more than 20 years of offering free online grief support to people of all ages and a website with more than 10,000 pet memorials.
"I looked for someone to help me when I lost my cat FiFi, but there was nowhere to go for pet loss," she said.
Brancato set up a grief support system that includes forums, chat rooms, tips and advice for those grieving a pet along with memorials to celebrate a pet's life. She was touched by Trevor's care of his grandmother's dog.
"People don't realize how traumatic and confusing death can be to a child," she said. "He needs permission to work through his grief."
RainbowsBridge.com offers a number of tips for children coping with pet loss such as encouraging a child to talk freely about a pet and discussing death and dying after the pet's death.
"It's final and sometimes kids don't get that," Brancato said. "And society makes it harder for little boys to grieve because they are told not to cry. Often the first thing they ask when they do talk, is 'why?'"
She suggested things like planting a tree in a pet's honor and donating time at a local shelter as ways to help older children with the grieving process.
Beverly Brown said Trevor did not talk about Hershey's death until this week.
"Yesterday, he finally asked me for details," Beverly Brown said on Friday. "He asked me questions about the euthanasia process and how Hershey did. I said, 'you know Trev, it was very peaceful.'"
Beverly Brown told her grandson how Hershey had licked her in the face right before a serum that ended his life was injected.
"He said, 'Nana, he was just telling you he loved you and thank you,'" Beverly Brown said. "I told Trev, I felt like that was exactly what he was saying."
Story reposted from:
http://www.newsleader.com/story/news/local/2016/08/12/pet-death/88629822/
By Traci Moyer