Amazon Prime Day Coming July 16
Help NCCF get donations by using Amazon Smile!
Here's a great way to help fund canine cancer research, education and outreach without giving any of your personal money.  Just by making this one change on Amazon Prime Day and any other time you shop Amazon, you can send money to National Canine Cancer Foundation every time you use it.
Just go to smile.amazon.com to shop instead of amazon.com. It will ask you to designate a charity of your choice and you can choose NCCF! It's that easy!
Once you do that you will be helping to fund all of these grants we have:
CLICK HERE TO SEE THE GRANT LIST
---
Follow the steps below for shopping through smile.amazon.com
Step 1: Visit smile.amazon.com – The entire shopping experience is the same and most products available on amazon.com are available at Amazon Smile.

Step 2: Sign in using login details.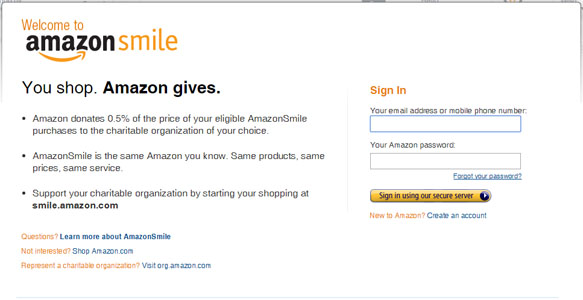 Step 3: After signing in, search for "NATIONAL CANINE CANCER FOUNDATION"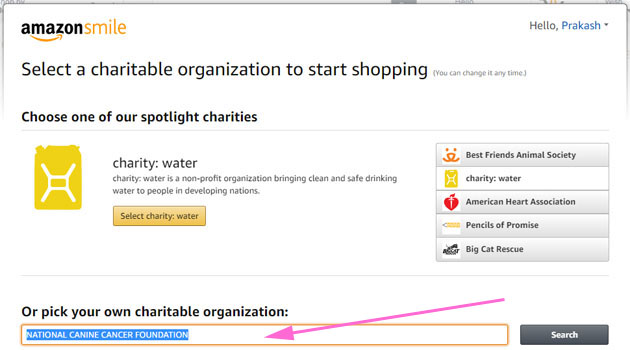 Step 4: Select "National Canine Cancer Foundation Inc"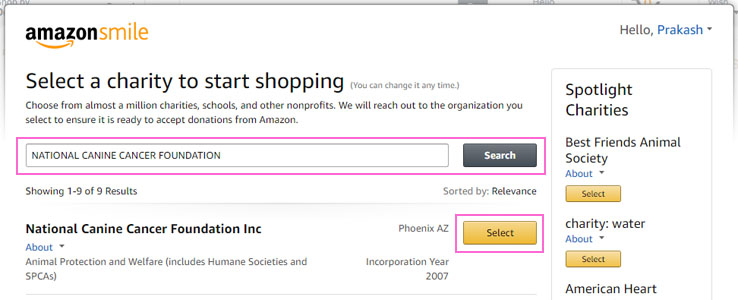 Step 5: Once selected, you will receive an email confirmation and you can begin shopping.

Step 4: Begin shopping! Shop for your favorite products or the perfect gift. No extra cost is passed onto you–Amazon will donate 0.5% of your purchase to National Canine Cancer Foundation!
Step 5: Share with your friends! After you've successfully completed a purchase on Amazon Smile you can share the news with your friends on Facebook, Twitter or via email. This option appears on the confirmation page after your order is complete.
---