The American Animal Hospital Association has released oncology guidelines for dogs and cats. The 2016 AAHA Oncology Guidelines for Dogs and Cats appeared in the July/August edition of the Journal of the American Animal Hospital Association.
"All companion animal practices will be presented with oncology cases on a regular basis, making diagnosis and treatment of cancer an essential part of comprehensive primary care," the abstract states. "Because each oncology case is medically unique, these guidelines recommend a patient-specific approach consisting of the following components: diagnosis, staging, therapeutic intervention, provisions for patient and personnel safety in handling chemotherapy agents, referral to an oncology specialty practice when appropriate, and a strong emphasis on client support."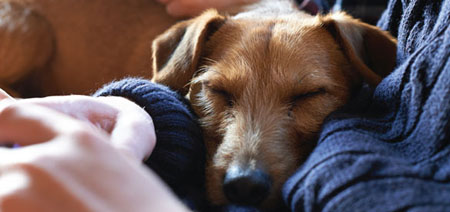 Dr. John Berg, chair of the guidelines task force and a professor of surgery at the Cummings School of Veterinary Medicine at Tufts University, said: "There is a constant flow of new clinical research coming out in veterinary oncology. It can be difficult for busy practitioners to keep up with all the information coming out in all fields, not just oncology, and the guidelines are intended to give practitioners a broad overview of how oncology specialists—medical oncologists, radiation oncologists, and surgeons—currently approach cancer diagnosis and treatment."
Dr. Berg said the guidelines include basic information on principles of medical therapy of cancer, radiation therapy, and surgical oncology. The document provides in-depth tables of information about the behavior, clinical evaluation, common treatments, and prognosis for the most common cancers of dogs and cats. The document also offers recommendations for discussing cancer with owners and overviews of newer cancer treatments such as targeted molecular therapies and metronomic chemotherapy.
"The main challenge was prioritizing information. The guidelines are not meant to be an oncology textbook but are more like a snapshot of what is currently being done by specialists for animals with cancer," Dr. Berg said. "Prioritizing content—what would make the cut and what wouldn't—was probably our major challenge, but in the end, there was a surprising amount of agreement."
He said other themes are safe handling of chemotherapeutic agents and supportive and palliative care for cancer patients.
"I think a key feature with potential to help the busy general practitioner are the tables of information on specific canine and feline cancers," Dr. Berg said. "These provide quick, at-your-fingertips summaries of what is currently generally being done for each cancer type by specialists and what owners can expect to be offered if they decide to seek referral to a specialist."
The 2016 AAHA Oncology Guidelines for Dogs and Cats are available here.
News reposted from:
https://www.avma.org/News/JAVMANews/Pages/160901b.aspx
By Katie Burns