I was catching up on my scrapbooking the other night.  I realized that I was 9 months behind but I enjoying taking a trip back in time to Christmas of last year.  It is still 90-95 degrees here, not yet cooling for the fall, but looking at the pictures and how much holiday cheer and traditions and fun last year was, I am ready, I am ready to embrace Fall and begin the run no MAD DASH to the holiday season!
One of the great traditions our family has is putting up the Christmas tree.  Gary and Dylan put up the lights first.  Gary is teaching our 5 year old son the Nice way of putting up the lights, the squinting method.  According to Gary it IS the only way to have the lights evenly distributed over the tree with no dark spots in the tree.  He and Dylan stand back from the tree and squint their eyes at the tree looking for dark spots.  See it's the squint that is key in finding the spots that need more light.
While the boys are busy squinting at the tree, Claire and I get the decorations down.  This is my favorite part each year.  There is such history, family history, in Christmas ornaments.  When I open the box, my children reach quickly for the first ornament they can touch and just dangle it and look at it, examining each treasure with a gleam in their eye and a smile of Christmas joy on their face.  As I take each ornament out, I find the connection to my great grandmother through her hand made ornaments. I remember taking the kids to the store last year to pick out the monster truck and Hello Kitty ornaments.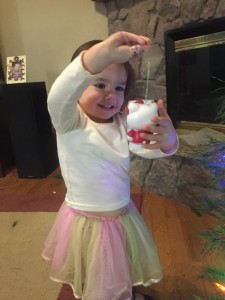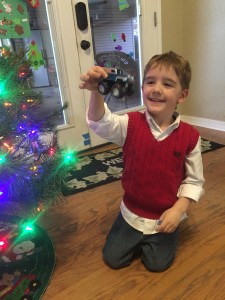 And then I find the ornaments that represent the memories of our first kids, our fur kids.  Pulling out the pink paws for Ashby, Bailey, Casey and Duncan give me a mix of emotions, flooding my head all at once.  I miss them so, I wish my kids could have met these perfect furry faces. I remember how we decorated the tree when Duncan came along, leaving the bottom 1/4 of the tree bare because he would help himself to the shiny ornaments and balls on the tree. I remember Ashby and his Kong that was ever present in his mouth and the smell of chlorine from the pool on his coat. Bailey and his laid back, "feed me and brush me I'm a show dog" attitude. And then Casey as she talks to me with her gigantic woobie in her mouth.
Every year, as I pull each ornament out, I get a chance to share these stories with my kids and to keep the memories of our family alive and passed down.  So, just as my great grandmother's hand made ornaments will get passed down to the kids with stories of her, the NCCF ornaments that commemorate our dogs and their part of our life will be handed down.  Each year, I get to smile and welcome them back into our life for the brief holiday season.  Each year, I get to add a new ornament with our current dogs.  And this year – I believe I will get out a few of the old pictures and do a new set of ornaments with pictures of our original four Goldens, the ABC&D's.  The dogs who have lead us down the journey of starting the National Canine Cancer Foundation and who have sustained our passion to educate people about canine cancer and to fund research that will hopefully lead to the end of this disease.
I look forward to walking through our office each day this holiday season and looking at the pictures of the dogs who are being commemorated on the ornaments.  I hope you will share their stories with us.  I would love to feature some of them on this blog.  If you would like to share your ornament and dog's story with us, please email me.
Here are this year's ornaments and we have already placed them in the NCCF store for you to order for Christmas because it will be here before you know it.  Don't forget to order ones for friends and family, they will smile each time they see it hanging on their tree! Click here or on the ornaments to directly to our store and order!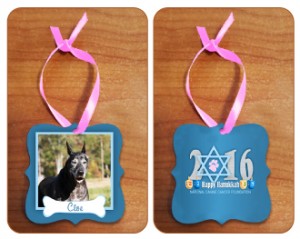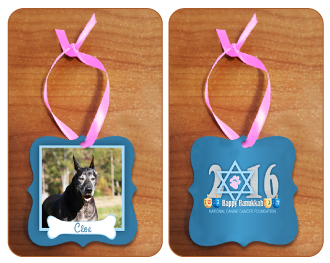 Article is written by Sara Nice, Co-Founder, National Canine Cancer Foundation. Fur Mom to one border collie now and Mom to two beautiful kids and wife to Founder, Gary Nice.