I want you to meet Hooch, a 100 lb Pit Bull who is surviving Mast Cell Cancer.  Hooch and his Mom, Sherry tell his interesting story.  This story will shout out to you that you should check your dog at least once a month for lumps or bumps and then it will give you hope that canine cancer can be survived.  It will also show you the passion she now has to become Part of the Cure, as she is currently planning an event to benefit the National Canine Cancer Foundation. Here is his story, as told by Sherry: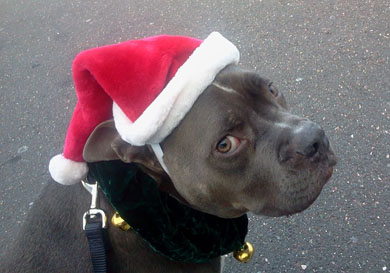 Hooch's story happened like lightening, I am always checking his body for ticks or rashes, I found a pea size bump that was oozing,  I am not a vet tech, but I am a nurse of 26 years. Honestly, my first thought was a ruptured cyst, but I did call my vet and we were in the same day.  Dr. Havier owner of The Animal Hospital of Rocky Hill examined Hooch, he told me he wanted to to a needle aspiration on three areas, two of which I missed. The results devastated me, it turned out to be mast cell carcinoma.  The angel that Dr Havier is, he had him into surgery the next morning. Hooch had three very large incisions on his back and side. The pathology report came back as a stage II cancer, he continues his followup visits and so far he is a survivor.  But as a nurse, I know eventually this disease will take his life. Dr. Havier says he is "tuff" as nails!!

Hooch has a claim to fame! We are originally from CT, however we did live in Gettysburg PA for a while. Hooch advocated for the canine hero of Gettysburg, "Sally" the pit bull that stood by and fought with the 11th PA unit in the battle of Gettysburg. He did a photo shoot with the author who wrote "The Chronicles of Gettysburg" at the monument for "Sally".
This 100 lb pit bull has a heart of gold and personality to match, and he wants to help! I want Hooch's legacy to be that he did fight for the cause.  He is such a special animal and friend, I want him to be remembered for doing his part to help his canine friends and that is why we are putting together an event for NCCF.
Sara Nice (NCCF Co-Founder)