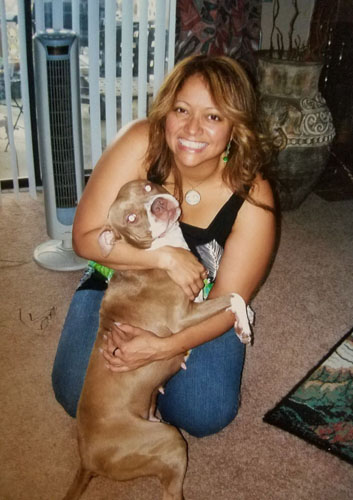 Several months ago, I received a contact form from Rexi, regarding her fur daughter, Girlfriend.  She was interested in joining the fight against canine cancer so that she could honor Girlfriend's life and her fight against Mast Cell cancer.  We spoke on the phone and I could hear the passion in her voice about doing something that would help further the NCCF's mission, but what I really heard was how much she loved and missed her Girlfriend.
Girlfriend was the light of her life.  She was able to spend 14 amazing years with her.  Apparently, Girlfriend liked to sing.  Rexi discovered this one day when the JG Wentworth commercial was on tv, she found "Gigi" singing to the tune.  She enjoyed the moment but went on, not giving it too much thought until the next couple of times that the commercial came on.  Each time "Gigi" stopped and started to sing the tune of the commercial. This will be one of those special memories she keeps to remind her of her fur daughter.
It was in 2010 that Gigi was diagnosed with Mast Cell cancer and had the tumor removed.  She lived 10 years cancer free!  The cancer returned in 2017 and finally took her life on Rexi's birthday, April 10, 2018.

In 2014, Rexi was fired from a job she truly loved, but was able to find a new passion in creating and pouring candles.  As she grew her hobby into a job, her life started to throw her the tough times of losing not only Girlfriend, but also her Mom.  Her Mom battled Lupus for 39 years, 24 years longer than the doctors gave her to live. As she faced these huge losses in her life, she had an equally huge desire to do something about it and to honor both her Mom and her fur daughter.  She decided to take a portion of the profit from her growing business, Gigi Flame, and give back to the two non-profits that would honor the two special people in her life.  She gives to the NCCF in honor of Girlfriend today and also to the Lupus Foundation of America in honor of her Mom.
Love and passion inspire so many things in our lives.  Rexi is a great example of how you can take that love and passion and create purpose.  The NCCF was also founded on the same kind of passion and love and continues to run on that through all of the people who work to further the fight against canine cancer.