The holiday season is synonymous with joy, warmth, and the spirit of giving. At We Are The Cure, we're thrilled to continue a cherished tradition that contributes to life-saving canine cancer research. Let's unwrap the story behind the 2023 Pink Paw Silver Bell Stained Glass Ornament and the hands that bring it to life.
Meet the Artisan: Mary Brown, the Heart Behind the Glass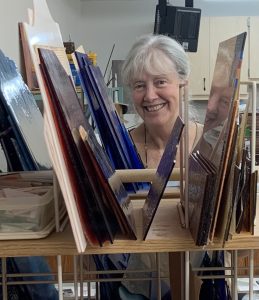 Imagine a world where artistry meets advocacy, and creativity becomes a catalyst for change. For the past 23 years, self-taught stained glass artisan Mary Brown has been transforming this vision into reality. Her journey into the realm of glasswork started spontaneously, fueled by an innate passion for the beauty of glass and a desire to create art that resonates.
Mary's work isn't just visually appealing; it's a testament to her skill and dedication. From sizable church windows to delicate earrings, her portfolio spans a diverse spectrum. What sets Mary's work apart is her intricate touch—adding beads, incorporating jewelry, and employing decorative soldering to infuse a captivating 3D effect.
A few years into her creative endeavor, Mary took on a unique challenge—capturing the essence of our four-legged companions through stained glass dog portraits. The response was overwhelmingly positive. One such creation caught the attention of the National Canine Cancer Foundation (NCCF) representative, sparking a collaboration that would mark the beginning of something truly special.
In 2012, Mary was commissioned to craft the inaugural NCCF stained glass Christmas ornament, featuring the organization's iconic pink paw logo. Fast forward to 2023, and Mary's passion for her craft and dedication to the cause remain as vibrant as ever.
Introducing the 2023 Pink Paw Silver Bell Stained Glass Ornament
As the holiday season approaches, anticipation builds for the unveiling of the latest addition to this cherished collection. The 2023 Pink Paw Silver Bell Stained Glass Ornament, shaped like a bell with a delicate silver outline, is a testament to Mary Brown's artistry and the spirit of giving.
Each handmade ornament is a labor of love, meticulously crafted by Mary. The limited number available adds an extra layer of exclusivity, making them a unique addition to your holiday decorations. Each ornament is customizable and can be personalized with the name of your dog or a loved one's dog, making these ornaments thoughtful gifts that spread the joy of the season among your dog-loving friends and family.
Supporting a Pawsome Cause
What makes these ornaments even more special is the purpose they serve. Proceeds from every purchase contribute to the National Canine Cancer Foundation's ongoing efforts to fight canine cancer. By adorning your tree with the 2023 Pink Paw Silver Bell Stained Glass Ornament, you're not just celebrating the season; you're actively participating in a cause that impacts the lives of our beloved furry friends.
In the words of Mary Brown, "I feel truly blessed to work with the NCCF and hope to continue creating these one-of-a-kind ornaments. I'm so glad they make people happy. That is truly the best compliment and reason to do my glasswork."
This holiday season, let's ring in the festivities with heart. Secure your 2023 Pink Paw Silver Bell Stained Glass Ornament today, and join us in spreading joy while making a meaningful impact. After all, it's more than just a Christmas ornament for dogs; it's a symbol of hope, love, and the unwavering spirit of man's best friend.