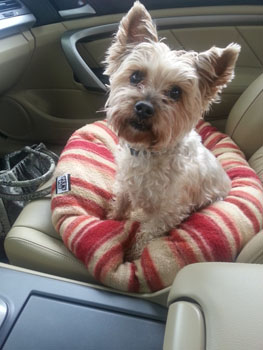 This falls under the header of I love my job! I received an email from Amber the other day and she was asking me to verify our mailing address and company information as she was getting ready to sign up for another year of payroll donations through her employer, who will also MATCH her donation! But that's not the best part of the story. The best part of the story is that I got to meet (virtually) her heart dog Rufus. When I sent her the information back, I asked if she would share with me her story of how she came to be a part of the cure. She sent me these terribly cute pictures of her Rufus and talked about him and his brother. Her story of them made me smile, though it is three years later, you can still see the love they shared and the wonderful memories she has of her boys.  THIS is why I love what I get to do.  I get to speak with people who are like minded and have shared a similar experience.  And the best part is, the NCCF helped during a very hard time in her life. Not, it wasn't me, but it was ALL of the NCCF that helped her through this and I am thankful to be a small part. I also have no doubt she is also a part of another person's painful journey, offering the same support she received a few years ago. I wanted to share her words and pictures with you:
Thank you, Sara!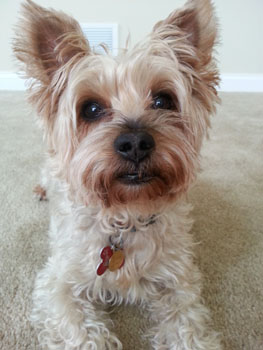 I don't think I have shared the story of my pup with you directly. But I think I may have posted something about him on the NCCF Facebook page a few years back. I'm attaching some pics of him. His name was Rufus and he was a yorkie and my very first fur baby. He and I had a very special bond. He was such a sweet little guy who loved snuggling, walks and playing with rubber squeaky toys. In July 2014 he was diagnosed with lymphoma. He was 11 years old. He went through chemo treatments at Medvet Columbus Cancer Center. We truly couldn't have asked for a better treatment center. They loved Ruf just as much as we did. He was a fighter and did really well with the treatments. He went into remission for several months but the cancer returned a little over a year later. We were devastated when we lost him and so was his brother Rico (our other yorkie). It's been 3 years this past week that we said goodbye to him. We still miss him dearly and think about him every day. But we know that he's in a much better place now with his brother who we lost a year and a half later.
To this day I still follow the NCCF Facebook page because it was such a huge comfort to me through Ruf's treatment. I truly appreciate all you guys do and donating is the least I can do to help. Please keep doing what you're doing. I'm hopeful that one day we can put an end to all cancers – both canine and human!
Thanks for letting me share my story. 🙂
Amber