Another Christmas and holiday season will be here in a few months. Christmas decorating should always be about what brings you joy. Our dogs are constant source of joy and wonderful memories. NCCF has launch 2016 Christmas ornaments and 2016 Hanukkah ornament early this year for your Christmas decoration.
These unique and personalized ornaments are perfect reminder of those great times together with our beloved companions.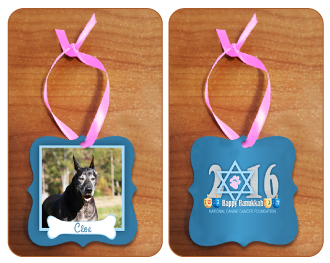 Please visit our online store to place your order today. All proceeds from the ornaments and all merchandise sold through the online store goes directly towards the work of the National Canine Cancer Foundation. We appreciate your continued support in helping us with the battle against Canine Cancer. If we all work together, We Are The Cure!
Should you have any questions please feel free to mail us at ordersnccf@gmail.com
Please Don't Delay Ordering! Reserve Your Orders Here ►► https://wearethecure.org/shop/