Survivor Stories
These days dealing with canine cancer can be frightening. You have statistics. You have your Veterinarian explaining what the cancer can do and what the prognosis is.
We believe at times like this, one also needs HOPE. It's our belief that the survivor stories on these pages will give you just that, HOPE that your sweet pup can win the battle.
Together, We Are The Cure

---
Would you like to share your survivor story for our supporters to give them hope. If so please email us at suggestions@wearethecure.org and please send your dogs story, name, your name and a picture.
Thank you
Gary Nice
Founder and President of the NCCF
---
Find all of our Survivor Stores pages at these links Page 1, Page 2, Page 3, Page 4, Page 5, Page 6, Page 7

---
Destiny's Story
By Lynn Stone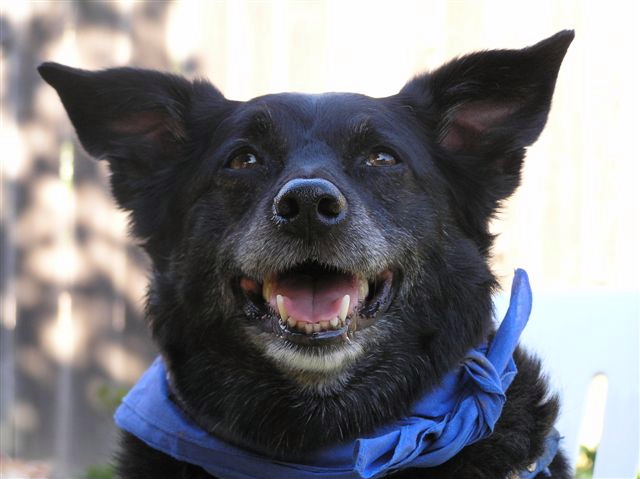 Destiny is a female spayed Corgi/Schipperke mix who is now more than five years past her lymphoma diagnosis. She was treated with chemotherapy, specifically the Wisconsin Protocol, short (no maintenance) and completed the protocol in March, 2006 and remains in her initial remission. She has had excellent quality of life throughout and will be 15 years young January 11, 2011. Destiny is my very best friend and we have been very fortunate to have had such caring veterinarians to guide us on this amazing journey of love, hope and healing. We know from first hand experience that every day is a gift.
Scitzo's Story
By Cheryl K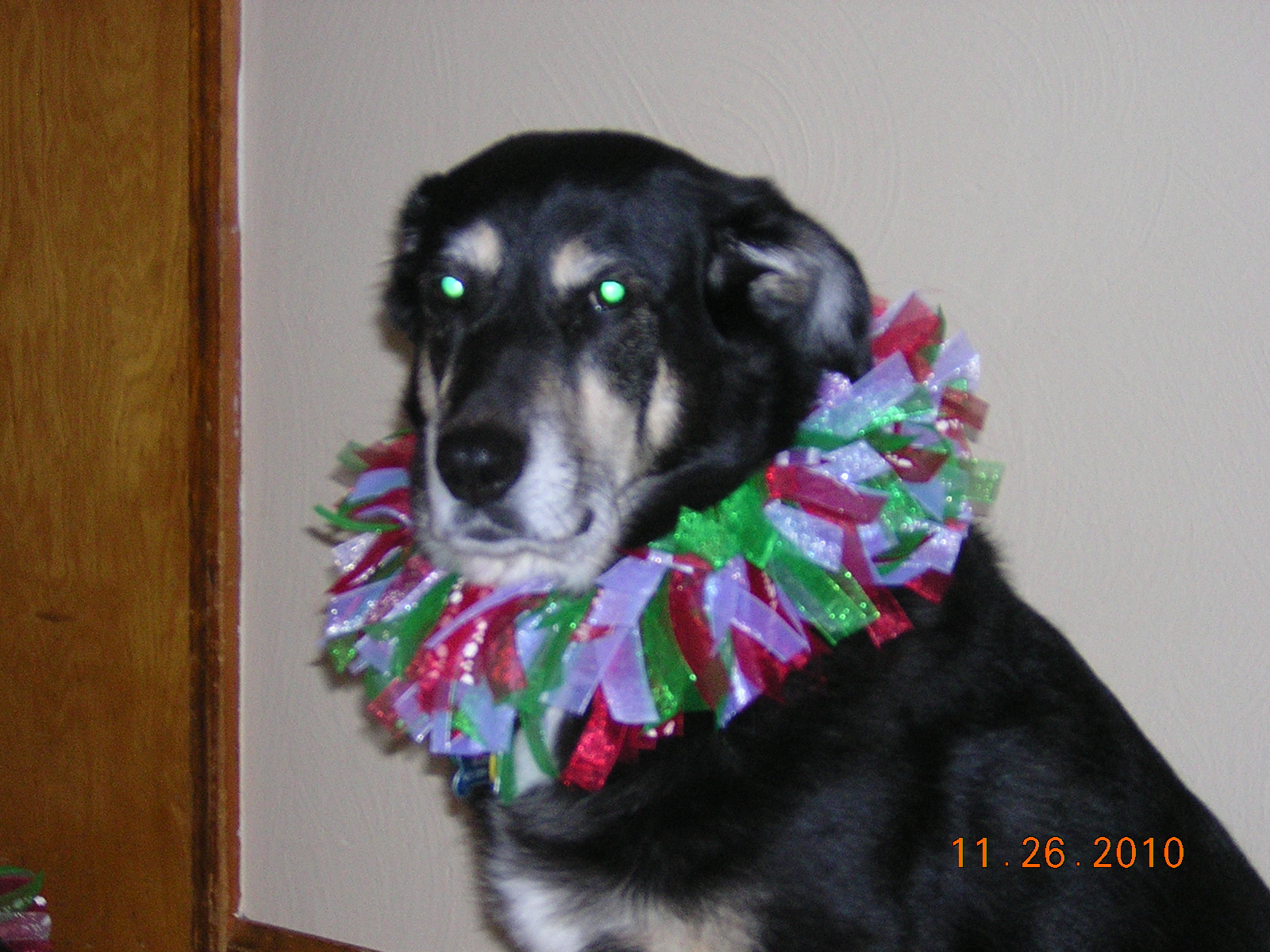 Scitzo was diagnosed with lymphoma and started chemotherapy 2/13/08. She has officially been in remission since 2/20/08. She did 6 months of the Madison Wisconsin protocol and has not had any maintenance chemo. Scitzo suffered side effects from the chemo and some were pretty strange. She had pneumonia, UTIs, bladder infections and diarrhea. She acquired a taste for clothing and wash cloths and ate them whenever possible. She also developed a tendency to steal items, her favorite being shoes and would carry them around in her mouth. For anyone thinking about chemo, please remember that each dog responds differently. Pretreating can be very helpful and many side effects can be eliminated with medication changes. We are so grateful for the time we have with Scitzo, however long it lasts. We know we have been very lucky (we lost Oneida to lymphoma 3/4/09). Cheryl & Scitzo (33 months remission and still going) and Angel Oneida
Shadow's Story
By Cheryl Good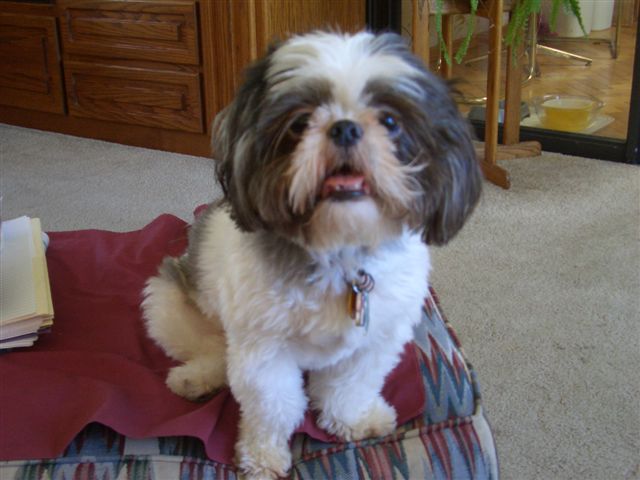 My Shih Tzu was diagnosed with lymphoma at four years old. I felt it was not her time and put her thru chemo and she did great. Didn't lose much hair and wasn't too sick. After six months she was in remission. She is now 8 years old and doing great!!! She is just like a puppy and loves to play with her toys… mainly at night when everyone else is trying to sleep. 🙂
Jack's Story
By Lori Napolitano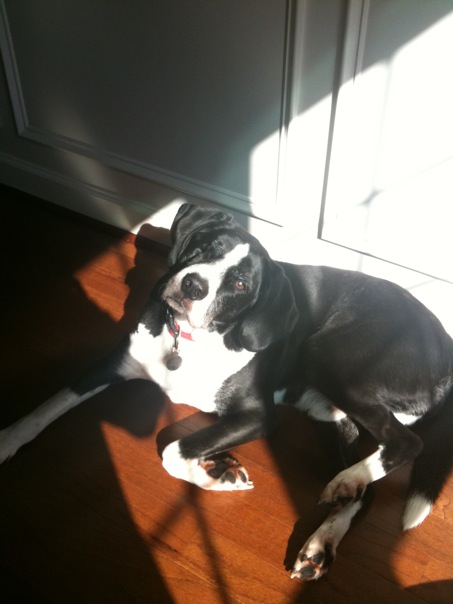 During a routine annual vet exam, we discovered a large growth on the back of Jack's upper jaw. A biopsy was performed and determined that Jack had squamous cell carcinoma and we really had no idea how long it had been there growing on his jaw. We were referred to a veterinary specialist and met with an oncologist and surgeon. Through additional testing, we learned that the carcinoma was localized and had not spread to any other organs. In our discussions with the surgeon, we decided that we wanted her to be as agressive as possible if it meant getting it all and clean margins. We did not want to put our baby through radiation and/or chemo. I'll never forget the night before his surgery. We faced a whole host of emotions, but were mostly scared for what lie ahead. We took a ton of pictures of our boy while he still had two eyes and we spent the night making sure he knew he was loved before taking him in for surgery. I waited very impatiently that whole next day for a phone call from the oncologist. Finally, the surgeon called to tell me that they had gotten clean margins and felt that they had gotten all the cancer. I'll never forget the first time I saw him after the surgery, his face all red, swollen and stitched up, but he approached me with his tail wagging and right then, I knew he was going to be ok. That was 4 years ago. We had another scare last year when we suspected the cancer had come back in his rectum. He had additional surgery to remove both his anal glands, but all continues to be well and he continues to be cancer free. Jack survived the gas chamber by mere moments, parvo and now cancer. He is my miracle baby and I thank God for him every day. I could not imagine my life without him. Now, I understand the importance of checking your dogs every month for any abnormalities, bumps and even their jaws for any growths.. Please, it is the least you can do for our furry friends! Every day after a cancer diagnosis is a gift and I am grateful for every day that I have with my boy.
Satchi's Story
By Russ Thorpe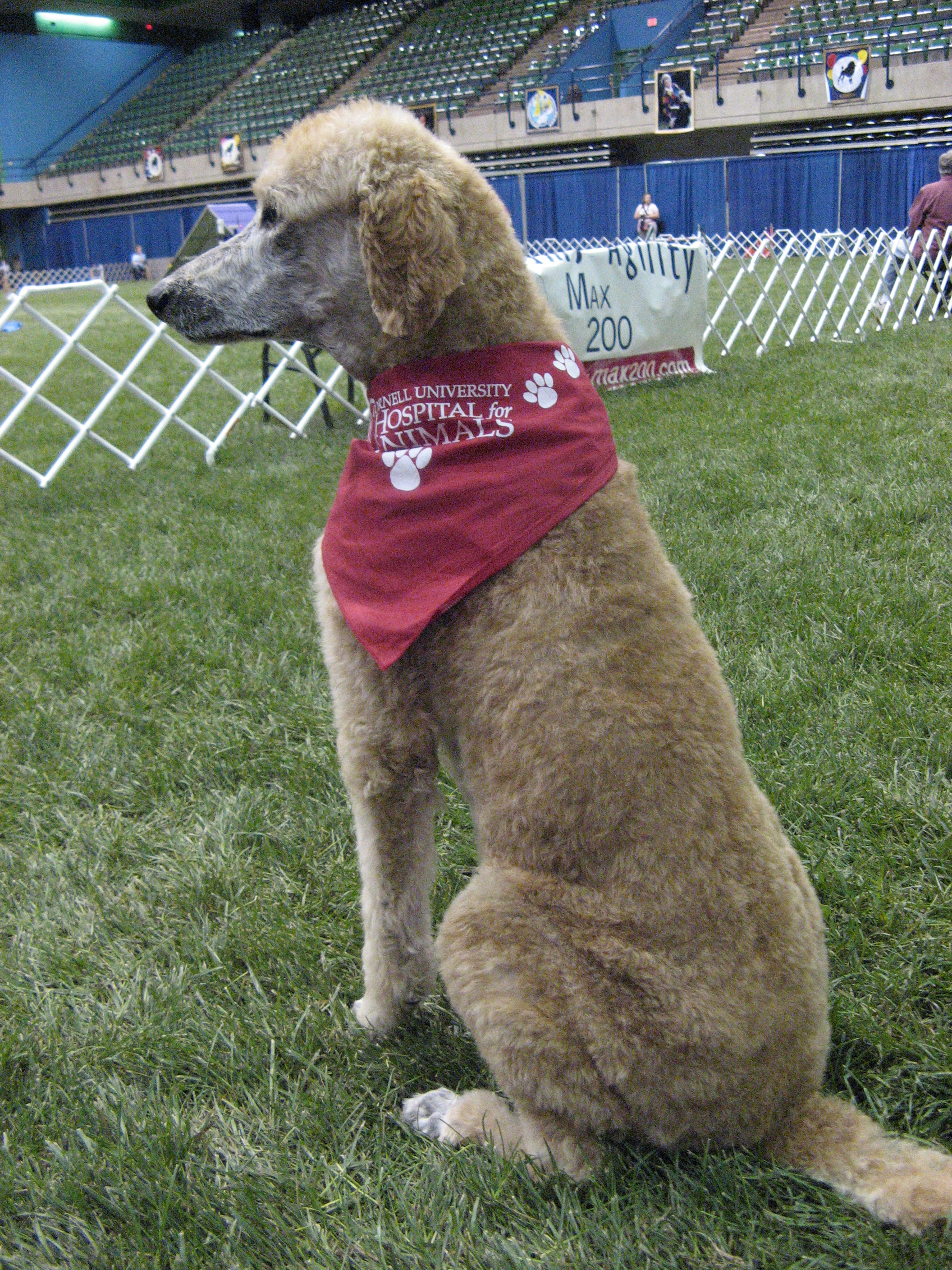 Satchi was diagnosed with Stage Vb T-cell Lymphoma during September 2009 at Cornell Veterinary School following 5 weeks of trying to get a diagnosis. He had lost considerable weight and became inappetant which resulted in him being fed pureed food by syringe. He had no tumors and his lymph nodes were not enlarged. Cornell found that he had 20-30% abnormal cells in his bone marrow. We opted for the CHOP chemo protocol at Cornell beginning in September wanting to attain the best quality of life we could for him. He was noted to be in remission when he had his next bone marrow aspirate done. He had a very difficult time with the MOPP part of the protocol in late November. But he did get through this difficulty with slight revision to the protocol. During late January he was able to resume competing in AKC Agilty. He earned his MACH5 in February 2010. He was also able to compete at the AKC National Agility Championship while on chemo in March 2010 where he placed 12th in his class. Satchi completed the CHOP chemo protocol in April 2010. Bone Marrow aspirates in June and September were clear. He discovered lure coursing with Lure for a Cure while being a spectator at the Cynosport games and absolutely loved it! He has continued to compete in AKC Agility and earned another championship, his MACH6 (only the second Standard Poodle to do so), in November 2010. He likes to remain active by playing ball, balancing on his physioball, and going for walks. As of this time, he remains health, happy, and active. His visits Cornell monthly for checkups. His next bone marrow test is Dec 21, 2010.
Louie-Louie's Story
By Carol Mount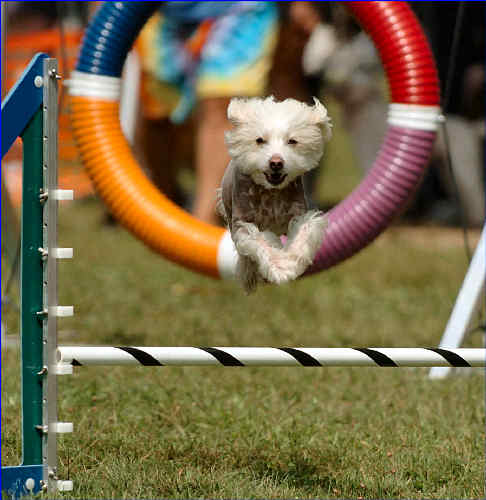 In Nov 2008, Louie-Louie, my Chinese Crested, was diagnosed with Stage IVa B-Cell Lymphoma. Louie-Louie started the CHOP protocol, and with his oncologist's encouragement, continued to actively participate in Flyball and Agility. Since his diagnosis, I learned to enjoy every thing Louie and I did together, and to let him do things he loved. We got the opportunity to participate in different activities and to be grew into being an ambassador that canine cancer treatment does not mean life stops. And we made many new friends. As some of our agility canine pals came down with cancer, Louie-Louie was there to say, look, there is hope. He did this by loving life. In his third week of his initial treatment, he played flyball and finished up the Flyball Grand Champion title which meant he had earned 30,000 life time NAFA flyball points. In Week 5 of treatment, we traveled via air to 2008 AKC Agility Invitationals where he finished up in 13th place in his height division. We were often going to agility class after treatments. And he did fine. Less than 1 year from diagnosis, he completed his third AKC Agility Championship, MACH3 and attended the NAFA CaAm, a premier flyball event. Thirteen months after diagnosis and treatment start, Louie came out of remission and started treatment again. This time with a mixture of CHOP and CCNU, he quickly went into his second remission. We are now past the 24 month point of his initial diagnosis and he is still in his second remission. Louie is semi-retired but is still playing flyball and agility. What he likes best is riding to the drive-thru.
Zoe's Story
By Robyn Reinsmith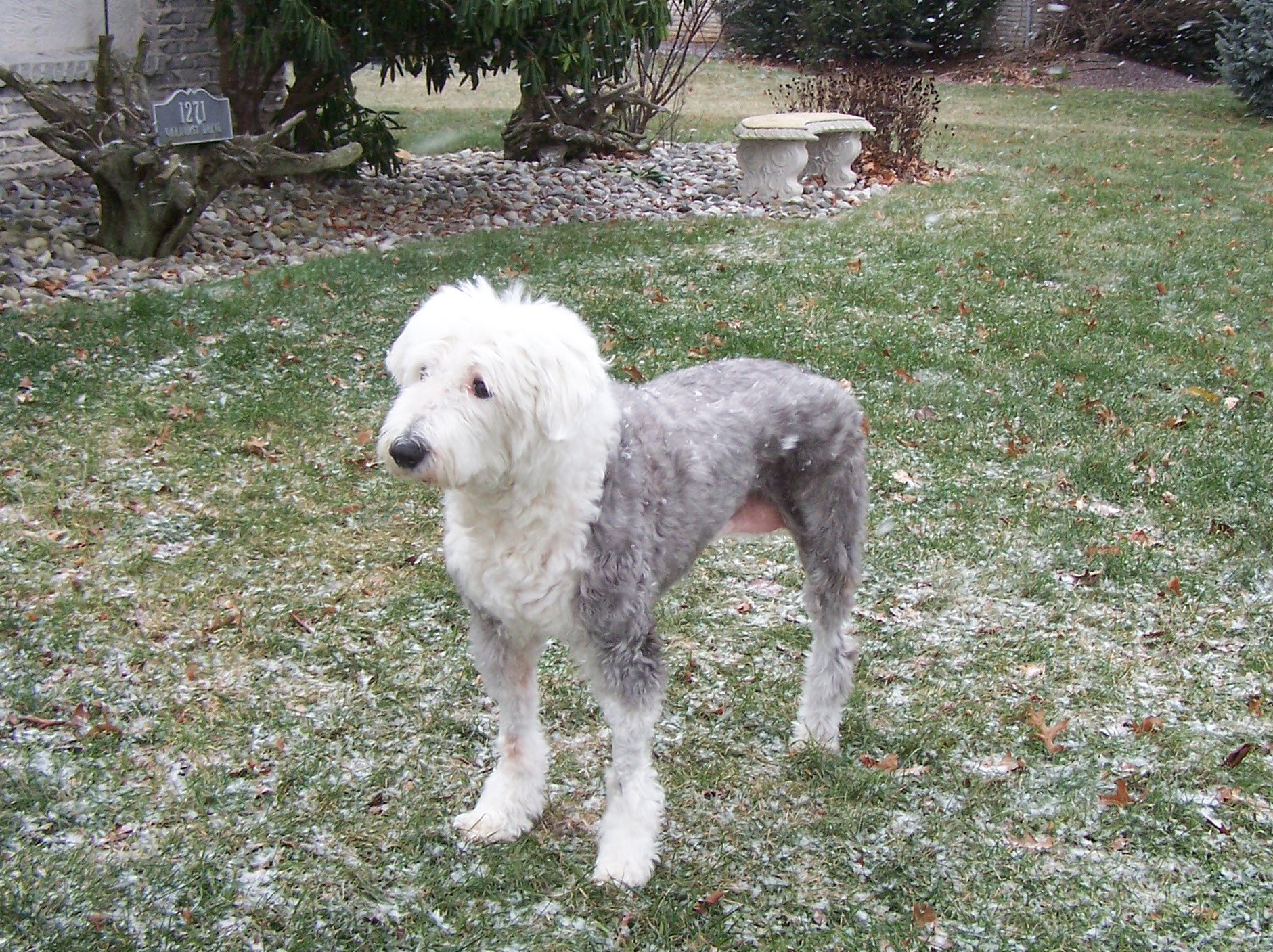 This is Zoe. On October 15, 2008, Zoe was diagnosed with Osteosarcoma. At that time, she was 11 1/2 and in no way ready to check out. The only chance she had was to have her hind leg amputed. We decided to go ahead with chemo (carboplatin) after the amputation. Zoe has been cancer free for 27 months. She has beaten all odds of survival after osteosarcoma, and has also beaten the odds of life expectancy for an Old English Sheepdog. We wish the best to all families going thru the same situation. Stay Strong.
Cayanne's Story
By Lisa Gandiaga

Cayanne was diagnosed with stage V lymphoma with secondary leukemia in February of 2009 at the age of 18 months. She went through 6 months of chemotherapy on the Wisconsin protocol, which was completed in August of 2009. Althougth Cayanne was very sick at the time of diagnosis, she tolerated chemo very well, with few side effects. And now, 2 years later, we are so fortunate that she is still in remission. We hope Cayanne's story provides hope to others just beginning the fight.
Daisy's Story
By Sarah Ercolani

Daisy, our adorable Norwegian Elkhound, was diagnosed with Mast Cell Tumors, at the age of 2 that were found in two locations on her body. After her diagnosis the tumors were removed and the pathology report rated them Grade II, meaning they had a 44% chance of recurring. With early treatment and proper care, dogs with Grade II tumors have an excellent chance of survival. Thanks to the wonderful work of cancer researchers, early treatment, and the funding provided by the National Canine Cancer Foundation, at age 10 Daisy is a now 8 year cancer survivor. We are so grateful for the National Canine Cancer Foundation so all dogs can have the same chance for a long life. Daisy is now the national spokesdog for Canine Cancer Awareness with John Nelsen Moosedog Rescue Fund – Elkhound Rescue. In her Canine Cancer Awareness educational booklet Daisy says "My tumors may come back anytime. It could be tomorrow, in 10 years, or never – but it is very important that Mom check me frequently for so new growths can be caught before they spread…so be sure to check the skin on your dogs for lumps & bumps because you never know what they can be." Daisy and I are so blessed that she remains cancer free so we can enjoy each & every day together.
Sammy's Story
By DeAnna Pollock

Sammy was diagnosed with a mast cell tumor in 2007. We saw it one day and when he went to the vet the mass had disappeared. A month later it showed up again and the vet did a fine needle aspiration confirming it was cancer. He had surgery that week to remove the tumor. A couple weeks later we took him to the oncologist for follow up and a CT scan to look for any possible sites of metastasis. We were so lucky that he was stage 1 and no mets. Now we inspect him from head to toe once a week and he sees the vet every 3 months to look for other masses since these tumors have a high rate of recurrence. Sammy is my best friend. He is a blessing and a gift and I am so grateful he's doing well. His best friend in the world is his brother Flannel who could not imagine a day going by without him.