It's not rare that a photograph of a homeless dog will inspire people to adopt. But it is rare for a photograph to inspire a nation, an industry, and a writer. Nico the Facebook Dog changed the path of my writing career, and he shed light on the plight of homeless dogs everywhere. Nico died in late January 2016, but he left behind a legacy bigger than his bark and brighter than his bi-colored eyes. He is a true rags-to-riches happy-ending "tail."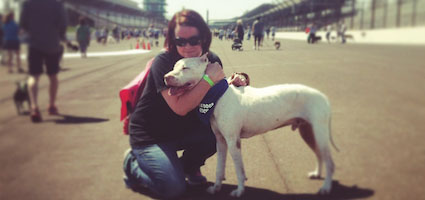 It all began in summer 2009 when I first saw the picture on Facebook. This beat-up, scarred, filthy "bully breed" dog rested his beefy head against the cold wall in his stark and barren kennel at an overcrowded Los Angeles County animal shelter.
But what got me — and hundreds of thousands of others who saw that photo through social media — was the dog's face. His head bowed. His eyes closed. The entire scene screamed rejection, depression, loss, and surrender. It was as if he knew he resided on death row and had no chance of an appeal. He was a dead dog walking. It broke my heart, as it did for countless others.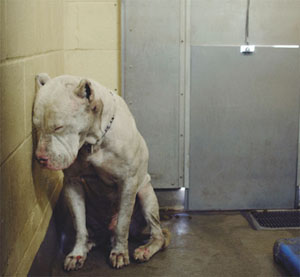 Nico at the Los Angeles County animal shelter. (Photo courtesy Nikki Audet)
Months went by, and I couldn't quite get that picture out of my head. I wondered what happened to this dog, who was a 6-year-old Dogo Argentino. Using my reporting skills, I looked. And what I found made me recommit my journalistic career to these happy-ending stories and made me realize that miracles come in all shapes, sizes, and breeds.
That iconic picture, taken by Nikki Audet with The Mutt Scouts in Los Angeles, went viral. The dog, Nico, became the unofficial poster boy for homeless dogs in shelters everywhere, but he needed someone to fight for him. He was a mess: depressed, malnourished, bloody, beaten, sick, and riddled with tumors. The shelter slated him to be euthanized due to a number of behavioral and physical issues.
But when Kelly Gibson, a rescuer from Puggles & Pitties in San Diego, saw Nico's picture, she couldn't stand the thought of this unloved boy dying without at least experiencing one kind deed or loving word. She drove north to Los Angeles to adopt him herself, give him a good meal, and have her own vet peacefully euthanize him.
But when she walked up to Nico's kennel in the shelter, Kelly was shocked. Not only was this dog gorgeous, with bi-colored eyes and a stunning physique, he was not ready to die. There was a spark in him, she said, something that touched her and screamed out hope. Kelly put aside the euthanasia plan and started to figure out what Nico's fate held.
It held a lot. Upon further evaluation, Nico was not aggressive — he was deaf. He was not mean — he had cancer and didn't feel well. Across the nation, rescuers and trainers banded together to form a plan of attack and funding to heal this gentle giant and get him the training he deserved. Nico soon found himself at the Humane Society for Hamilton County in Indiana, where he received training for hearing loss as well as socialization skills. He lived in foster care and learned rules, boundaries, hand signals, and commands. His high intellect and willingness to learn took trainers by pleasant surprise.
Throughout it all, Nico became more famous online. People all over the world followed his transport across the
country, his rehab, and his search for a forever home. Everyone, it seemed, except Bridget Swan of Indianapolis. She was in the dark about this dog until November 2009, when a co-worker sent her the link to the Hamilton County Humane Society page with Nico on it. Bridget had been in the market to adopt a "bully breed," and this beautiful white majesty seemed to fit the bill. Reading Nico's story, Bridget knew she wanted this boy to love and care for.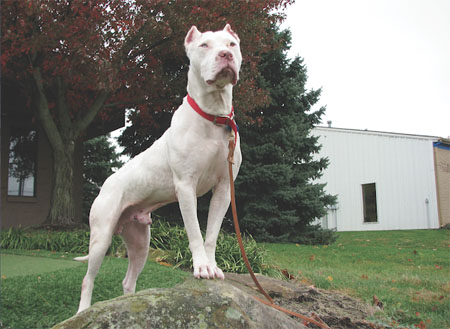 Nico (Photo Deena Crouch)
"I always root for the underdog," she said.
But when Bridget went to the humane society, she was surprised to run into some red tape. So many people wanted to adopt Nico because of his celebrity status that the humane society staff needed to weed out the real adopters from the opportunists. That's when Bridget realized what Nico was all about and, while surprised, she was not deterred. Nico was her dog; she just knew it.
Bridget adopted Nico, and life exploded for both of them, all in good ways.
"He was my life for six and a half years," she said. "And I was his life as well. We were soul mates."
Together, they spoke to rescue groups, canine cancer groups, and anti-breed specific legislation events all across Indianapolis, highlighting everything from adoption to special-needs dogs to health care to breed education. Online, thousands of people followed Nico, mainly on Facebook. He became the spokesdog for so many issues near and dear to the canine community. Bridget constantly kept up his training as well as his medical care.
Nico's cancer never entirely went away. He suffered from numerous forms, most predominantly a type of vascular cancer that eventually took his life. Bridget had him on various forms of chemo and holistic therapies for about a year, and Nico seemed to stabilize.
"He was living the life," Bridget said. "He was so attached to us. He would follow me everywhere in the house." Nico had his own queen-sized bed to sleep in, but he would often curl up outside the baby's room waiting for Bridget to come in and feed her newborn daughter. He wanted to be near them, always.
Bridget knows that Nico's legacy will live on, especially his message to look beyond the package when it comes to rescue dogs.
"Maybe he doesn't look like the prettiest dog in the shelter, but he's lived without love," she said. And love can transform. Miraculously.
But the one thing that Bridget takes to heart in the early, grief-filled days after Nico's passing is that his story has saved countless lives. If a beat-up, sick, deaf, cancer-riddled dog can be rescued, trained, adopted, and given an amazing life, then there is hope for so many dogs out there. Who knows how many dogs he saved just by being him, Bridget mused.
"That's what he was fighting for," she said. "Adopt, don't shop. The older, ugly dog no one wants — that's the dog that will be the true companion. [Nico's story] helps people to see the best in dogs in shelters."
Story reposted from:
By Kyra Kirkwood