[vc_row full_width="" parallax="" parallax_image="" add_clearfix="" children_same_height="" margin_bottom_class="" animation_type="" animation_duration="1″ animation_delay="0″][vc_column width="1/1″ margin_bottom_class="" animation_type="" animation_duration="1″ animation_delay="0″][vc_column_text]
Survivor Stories
These days dealing with canine cancer can be frightening. You have statistics. You have your Veterinarian explaining what the cancer can do and what the prognosis is.
We believe at times like this, one also needs HOPE. It's our belief that the survivor stories on these pages will give you just that, HOPE that your sweet pup can win the battle.
Together, We Are The Cure

---
Would you like to share your survivor story for our supporters to give them hope.  If so please email us at suggestions@wearethecure.org and please send your dogs story, name, your name and a picture.
 Thank you 
 Gary Nice
Founder and President of the NCCF
---
Find all of our Survivor Stores pages at these links  Page 1, Page 2, Page 3, Page 4, Page 5, Page 6, Page 7
[/vc_column_text][vc_column_text]
Mia's Story
By Ellen Lambert

I came home from work on a Friday evening and Mia would not eat her dinner. Mia is a Cocker Spaniel, any one who knows the breed must know how I was immediately alarmed. Mia never misses a chance to eat, no matter what the offering. I took her to the ER Vet and after an x-ray, thry discovered a blockage in her small intestine. The Vet was thinking a ball or sock, etc., but Mia liked food, she did not eat inanimate objects. They decided they should open her up. The thoughts running through my head were, 'I hope my underwear is not what they pull out'. Alas, the Vet called during the surgery and said her intestines ruptured while they were in there and what was there was not fabric, but a tumor. They removed about a foot of her intestines and cleaned her out the best they could. He said a lymph node looked 'iffy' but they did not want to take it because of chance of infection. She was touch and go for 2 days. I was a mess, and when the news came that they removed adenocarcinoma from her small intestine and she probably only had 2-4 months to live, the only thing I could think is I did not want her to die there. They released her to me with some antbiotics and pain killers. I set up a futon mattress on the floor of the living room, spread Wee Wee pads all over it and proceeded to lay with her for the rest of the week. The Vet gave me all the instructions for the medications, but what I neglected to find out is how to feed her. She had not been eating in ICU, but when she arrived home, all she wanted was to eat. I researched many holistic studies on what to do to fight the cancer in her body, since chemo was not an option. I read that Grain free was the way to go, so I began her diet regimen. When we returned, a week later, to have her staples removed, the staff was astonished! I was then told that none of them expected her to survive the peritonitis. She is amazing! That was two years ago, 3/23/2009. She is still frisky, lovey, mushy and, of course, food driven. She is now 10 years old and my miracle girl! When I thought I was going o make her comfortable for a few months, two years later, I am overjoyed that I never gave up hope and she never gave up fighting! I am now prepared for whatever happens with her, being given so much extra time.
[/vc_column_text][vc_column_text]
Bryce's Story
By Mary-Anne Gross

Bryce was diagnosed with Multiple Myeloma in April of 2008, after routine bloodwork revealed an abnormality in his protein values. There were no bone lesions, however it was all over his spleen and his liver. On the awful day I was given his survival prognosis (540 days if I went the chemo route (Melphalan and Prednisone, aka the MP protocol), 220 days on Prednisone alone) I remember standing there dumbstruck thinking "This just can't be!" Having had a very bad experience with chemo in another dog, I opted to try holistic treatments first. I wish I could say they were a great success – they were not. Bryce kept getting sicker and at the end of that year I decided to start the chemo. Most dogs respond quickly to this, Bryce did not. However after the nerve-wracking initial couple of weeks, he began to respond and the meds steadily chipped away at his disease. He had no side effects from the chemo, we did have to reduce his prednisone dosage due to stomach upset. Bryce has always LIVED for doing agility, so I decided from the very start that I would let him run as much as he wanted to for long as he wanted to do it. A year after we started chemo, Bryce was declared to be in clinical remission. A week after that, he earned his CPE C-ATCH (CPE agility championship.) March of 2011 marks three years since we discovered his cancer – in that time he has earned multiple titles and awards in AKC, CPE and NADAC agility, including most recently his CPE CH-JU (jumpers champion) and his NADAC 1000 Lifetime Points award. He's semi-retired now due to some back problems and aging vision, but when we run he still pulls me to the start line with great enthusiasm, tail in the air, having the time of his life. He's not "cured" but has remained on a maintenance dosage of his medications which so far have kept his disease under control. Most importantly, I cherish that he's becoming something I never thought he'd get to be back in 2008: A very, very spoiled old dog!
[/vc_column_text][vc_column_text]
Cole's Story
By Maria Pichini

In Feb. of 2009 my Old English Sheepdog Cole had a huge lump on his hind leg after many doctor appointments he was diagnosed with cancer, after weighing all the options and finding a wonderful orthopedic surgeon we opted of removal of the leg in April of 2009. Cole was only 2 1/2 years old, and at 100 lbs was so concerned about his being able to live a healthy life, however he bounced right back was a trooper through everything and 2 years later is healthy and happy and cancer free!!!
[/vc_column_text][vc_column_text]
Gunny's Story
By Nancy Mantooth

Gunny, Greylock Glen's Camellia SH CD RN NAVHDA UT P1, is my perfect dog. My husband and I, with help from more people than we can count, trained her for everything she has done. She has spent the last 12 years trying to understand what we want and to do everything she can to make us happy. We have tried to be very conscientious with Gunny's health care. She received thorough examinations with her annual vaccinations and was treated for every problem that came up. Our veterinarian loves her almost as much as we do and she loves him back because he gives her lots of treats to offset those nasty shots. Last spring, we took Gunny to the Texas A&M Veterinary Medical Teaching Hospital (the place that saved Westminster winner Stump) for what we thought was going to be a routine geriatric exam. What can I say … the vets at A&M love Gunny, too. They were so proud of her conditioning. She's fit and strong for her age. Her health looked great until they saw the ultrasound of her abdomen. There, they found a large mass. A week later, surgery removed the softball-sized tumor and pathology identified it as a type of cancer called a gastrointestinal stromal tumor. Gunny recovered very quickly from the surgery. I had thought that she was slowing down because of her age but it turns out it was because of the tumor. She felt sooo much better without it. The bad news was that the surgeons could not get all the little tumors that had fallen off the large one and implanted into her omentum (abdominal lining – I'm learning so many big words through all of this). There was no sign that it had spread to any other organs, but they were not hopeful. Let's see. So far, this has been three trips home crying my eyes out plus the one after the surgery when I was just slightly hopeful. One of the most important parts of this has been the continuous conversation between the A&M vets, my vet and me. Colorado State University Vet School has arguably the best veterinary oncology program in the nation and they have a telephonic second-opinion service. With the diagnostic information from A&M, they have been very helpful in explaining things and confirming treatments. This cancer is the same as one that humans can get and the medicine to treat it is the same, so my doctor and family members in the medical field have been very informative also. Since Gunny cannot talk, I must do it for her. The more I know about her condition, the more I can assist Gunny with her treatment. The end of May, the A&M vets and I decided to start her on an experimental chemo. Dog chemo is not like human chemo. The drugs are the same but the reactions to them are not. With few exceptions, dogs don't lose their coats like humans lose hair. They rarely have the intestinal upsets that humans do, either. But the chemo did make Gunny feel "punk" and very heat intolerant. Good thing we have air conditioning, because this record hot summer would have done her in, even without the chemo. The next trip to A&M in early July showed that this first chemo had no effect on the tumors left behind. Some had grown and there were new ones not seen before, including something on her liver. Time to try a different chemo. And another drive home with limited vision. Early August brought good news! The new chemo is working! No new tumors, none have grown, some have shrunken, and the liver spot disappeared. I had made monthly trips to A&M since that first exam in April. This time I could wait 2 months! The A&M vets stated that she showed partial remission. Finally, I was able to call friends with good news instead of hearing their condolences. She did have a slight problem with regularity, but when I e-mailed the Activia yogurt people, they did not want to hear about it. Yes, Gunny took the Activia challenge and it worked. The end of September was more good news. Gunny is now officially in remission. The A&M oncology resident said we needed to start making plans to take her off the chemo in 6-12 months. I did get a second opinion from Colorado State Vet School who disagreed with stopping the chemo, but we're making plans a year out! The way she is feeling and her reaction to the chemo even makes me optimistic that she'll go out hunting this winter. Our hunting season starts the middle of December (woodcocks), so we started tuning up both our dogs in early November. We went to a preserve near our home to put them on quail. It seems that Gunny has an attitude. She knows how to hunt (duh!) and doesn't need to be told what to do. If we don't like it, what are we going to do – shave her belly? That only happens every time A&M checks her out. Actually, other than breaking on the shot for every bird whether she pointed it or not, she's doing pretty well. We had a good 30 – 45 minute long session followed by another 30 minutes after about an hour's rest (for me). She pointed 4 and retrieved 7 birds – our other dog was not happy. But, look out woodcocks! For some reason, the week before each appointment at A&M, I start getting a bad feeling. This time is going to be the time I'm told nothing else can be done and start saying my goodbyes. Every time, I've been wrong. November was no different. My appointment was with the head of the oncology department who said that Gunny now has an "unremarkable abdomen". There are no tumors and she has no side effects from the chemo medicine. The next checkup is in 3 more months. That's almost 2 years in dog time! When the tumor was initially diagnosed, the vets said she would only last about 6 months without surgery. With only the surgery, she might have 2-3 months more and Gunny would not have a good quality of life for a large part of that. The chemo has made a great difference. A&M has found literature on a dog with the same cancer, in worse shape than Gunny was in, that was put on the same chemo and had a good life for 4 more years. At 13 years old now, I don't expect that much time, but going out and playing fetch with her every morning is a gift I am truly grateful for.
[/vc_column_text][vc_column_text]
Vivie's Story
By Carol Duncan

Vivie, an Alaskan Malamute, was recently found to have a malignant tumor on a breast. She underwent surgery in May 2011 and we are hopeful that it was removed in its entirety. The tumor was discovered during a casual belly rub and served as a reminder to do breast exams on all females every month!
[/vc_column_text][vc_column_text]
Harley's Story
By Kim Domerofski

Our gentle giant, Harley, was diagnosed on 8/17/06 with intestinal lymphoma. He was 6 years old at the time and previously very healthy. He had surgery to remove the tumor and 6 inches of his intestines. The prognosis was not good as the vet said it was likely that they weren't able to get all of the affected tissue. The previous year we lost our chocolate lab, Buddy, to lymphoma after just 40 days of chemotherapy. Needless to say, we were devastated, heartbroken and somewhat resigned to the seemingly inevitable outcome. We chose not to give him chemotherapy and just to use prednisone as palliative care. When he went into surgery he was a very healthy 102 lbs. Over the next few weeks, he got down to 88 lbs. Fast forward four months to January 2007…our family relocated 2,000 miles away all the while thinking that Harley wouldn't be with us much longer. However, when we got to our new home, we visited his new oncologist. His blood levels and ultrasound looked great. The oncologist couldn't believe he had only been on prednisone and doing so well. His weight was back up to 100 and he had great energy. We decided to start him on a low-dose of chemo — chlorambucil. Fast forward 4 1/2 YEARS… Harley is still with us and doing amazingly! He visited the oncologist every 3 months for blood work and ultrasounds for the first two years and then every 6 months for the next two years. In February 2011, our oncologist recommended taking him off the chlorambucil. She said it was like having a person on chemo for 35 years! The chlorambucil is such a low-dose she said that it would have come back already even when he was on it. It was hard to let go of that peace of mind — didn't want to change anything since everything was working — but we ended up taking him off. He has been cancer-free and off chemo for 6 months now! This picture is Harley after a swim in the pool last week. He will be 12 years old in October which means almost half of his life he has lived as a lymphoma survivor. Had you asked me in August 2006 if there was any hope, I most likely would have given you a different answer. Now I know that miracles do happen and every dog is different! Please know that there IS hope! Who knows if your dog will be one of those special cases who will beat the odds? My advice to you is to enjoy each day you have with your pup and be thankful for every single second!
[/vc_column_text][vc_column_text]
Roxy <3's Story
By Rachael Lloyd

Let me start by saying, with the risk of sounding like Bob Barker….please, please, please get your pets spayed or neutered. I got Roxy when I was young and I didnt understand the risk I put her in by not having her spayed. A dog that is spayed before her first heat has roughly a zero percent chance of getting breast cancer. A dog that has been spayed before her second heat has a roughly a 7 percent of getting breast cancer. Roxy turned 9 years old in February, and had not been spayed. I take full responsibility for her having had breast cancer. You don't want to take the chance of ever feeling that weight, trust me. Roxy has never misbehaved a day in her life. She is the perfect dog. She is sweet and kind, with a child-likeness to her. She has this amazing sense of wonder and loves life. She has an adventurous spirit and likes going anywhere. If you can't tell yet… shes a boxer. She loves people and especially kids. Out of the 168 hours in each week, we spend at least 148 of them together(if not more) so, Roxy has been nicknamed my shadow… or as I prefer…my shadow boxer. 🙂 She was first diagnosed with two mast cell tumors in 08. Six months after I lost my other baby (Debo) to a brain tumor. The news was rough to say the least. But she had surgery and the cancer was gone. I checked her body religiously for bumps and lumps and in March of this year (2011) I felt lumps in her mammary glands. Being my mother is a breast cancer survivor, I knew this was serious and time sensitive. There had also been two other bumps, one on her hind leg and one on her front leg… I was putting it off but I knew when I felt the mammary glands, I couldn't put it off any longer. I took her to her vet and the news they gave me was grim. Six months to a year. SIX MONTHS TO A YEAR??? I couldn't wrap my mind around how my perfectly happy and other wise perfectly healthy 9 year old baby girl was silently being ripped away from me. Cancer was killing her. The vet told me if we were going to consider surgery, that we should find a board certified surgeon, but that our first step was meeting with an oncologist. So, to CVS (Carolina's veterinary specialists) we went. We met Dr. Claudia McFadden (oncologist/angel) I could praise this woman for the rest of my life and it still wouldn't be enough.. but I'll get to that later. She gave us hope. She explained we didn't have to accept this… that she believed Roxy could be saved. But it wasn't going to be cheap and it certainly wasn't going to be easy. Now I'm a full time college student, I don't have much… and I certainly couldn't afford this. But I vowed to myself Roxy would not die because I couldn't afford her care. A brand new Play Station 3 was donated and I sold raffle tickets to win it… to everyone I could. I had a garage sale where friends and family donated things to sell, and I sold cupcakes. I made posters and had a "save Roxy's life", theme so everyone that came, knew why we were there. I raised close to $3000.00 in a week. But it wasn't enough. Then we found out "murray's fund" (the charity Dr. McFadden started after losing her own beloved dog Murray to cancer, to help people who couldn't afford treatment)was going to award Roxy with some funds. And after the award, the garage sale, the raffle tickets, the oh so many cupcakes, and begging and borrowing from everyone I knew… we were ready. There was just no "thinking" about it, we knew what the right thing for Roxy was, we knew Roxy would choose life. And so our fight began. Roxy had testing done. Her lungs, her heart, x-rays of her abdomen, blood tests, urine tests, you name it, they checked for it. A week after her diagnosis, Dr. Devorak (Roxy's surgeon)removed the two mast cell tumors from her legs, she preformed a quadruple mastectomy, a skin graph (so they could close her lean little body up,)and she was spayed. Quite a list, huh? I stayed at the hospital from 7am to 5pm when they finally came out to tell me she was awake and recovering. Everyone kept telling me I could leave, but that was physically impossible for me. If anything was going to happen to her on that operating table, some unexpected horrible thing… I was going to be there to hold her. Everyone believed Roxy was strong enough for all this and as her mom, I KNEW she was. She had to spend the night in the hospital… I was devastated by this, in 9+ years we had never spent a night apart. But I reminded myself this was my fight, I had to fight this fight for Roxy. She needed me. She needed me to be strong. So when I knew she was done with surgery and okay, I went home, without my girl. I couldn't sleep that night, so I drove to the hospital and waited. I waited for a call saying she was ready to go home. I finally got it around 4pm. I was excited and scared. I didn't know what to expect… but then I saw that little monkey face, and she saw me and her back end wiggled with delight. She was a mess… JP drains hanging from both sides of her body and scars everywhere. She was sore and all drugged up, but her spirit was strong. I took her home to my mattress on the den floor made up like a big doggy bed and we rested. The first few days were rough.. she was weak, but I was strong for her. She wouldn't get up to drink, so I gave her water from a bottle… she wouldn't eat so I cooked 10 different things and when I found one she would eat, I had to hand feed her. Everyday she got stronger and stronger. And on the ninth day, while grilling hot dogs for her, I noticed my shadow was gone. I looked up and she was running circles around the backyard… my baby was BACK! The next day the drains came out, and it was back to normal activity. Of course I made her take it easy and babied everything a little longer. But we weren't done yet… Dr devorak explained that during the removal of the tumor on her front leg they couldn't get the standard margin they normally like to take. They got all the cancer but only 1mm of clean cells around it. So we decided that chemo would be her best option. If there were any cells remaining on her leg, chemo would kill them. If there were any cancer cells anywhere in her body… chemo would kill them. We gave her a couple weeks and then we started chemo. Eight rounds over 12 weeks. She was put on anti nausea, anti diarrhea meds and on prednisone. She went through chemo with flying colors. Thursday, July 28th 2011, Roxy "graduated" from chemo. That day will always be one of the most profound days of my life. You see, something kicked in on that day in March; I was thrust into a survival mode.. where you just do what you have to do, because it needs to be done. But on July 28th I found myself overwhelmed with emotions. Everything I was told, everything that had happened, everything we did, all the hard work, the pill schedules, culminated into this one day. And as I sat there in the hospital waiting room, waiting for the final round of chemo to be over, I witnessed just "HOW" lucky we were. Four groups of people(that I saw) left that hospital that day, crying, with empty leashed dangling from their hands. I'm sure everyone that worked there and saw me thought I was NUTS! My girl was being cured and yet I was crying. But I wasn't crying for me or Roxy… I was crying for those people who lost their babies that day. I've been that person. And I realized that survival mode was over, sitting there I felt and still feel, like I received a miracle, things so easliy could have gone the other way for us. My girl survived. And we couldn't have done it without our army of people supporting us. And Roxy's very own angel, Dr. McFadden. I will forever be in debt to her. She is brilliant, kind and caring. Shes simply our hero. Roxy will be on the prednisone for a few more weeks, but other than that… its business as usual. Our fight is over. Roxy didn't just survive… she THRIVES!!! Roxy has taught me what it means to be dedicated and how every day IS a gift. My advice for those knee deep in their own fight…. don't give up… and remember anything is possible.
[/vc_column_text][vc_column_text]
Mimi's Story
By Marybeth Gibbons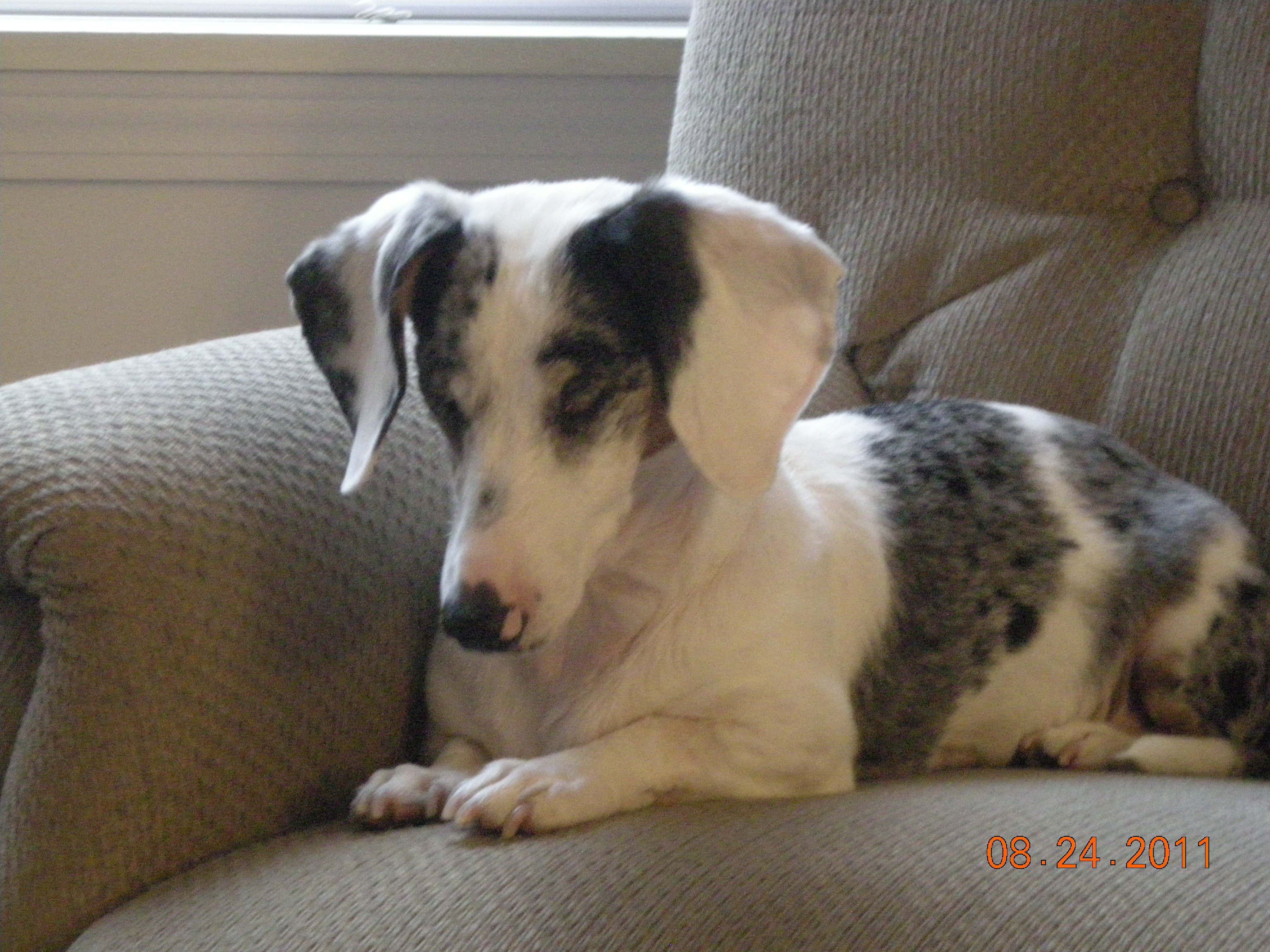 Mimi is our blind double dapple dachshund that we adopted in 2008 when she was 7 years old. She was born blind, but has absolutely no problems getting around. Her hearing and sense of smell have more than made up for her inability to see. In 2009, the vet found a tumor on her anal gland. The tumor and anal gland were removed and a biopsy was done. The test results confirmed our fears – the tumor was an anal gland adenocarcinoma. At the time, blood tests were normal, and the surgeon told us that he was very sure that he had gotten all of the tumor. Accordingly, we didn't pursue any further treatment. In 2010, almost exactly one year later, we noticed that the tumor had returned. We opted to have this one removed as well. After the surgery, which was successful, we weighed our options as to whether chemotherapy was appropriate. We considered that the chemo could make Mimi very sick, and that it might not be successful in the end. We also considered the fact that doxies tend to be a very long-lived breed, and that living to 15 or 16 years was fairly commonplace. We also took into account the fact that Mimi was (and remains) a very healthy, alert and active dog, even at the age of 10. Furthermore, we knew that if the chemo made her too sick, we could stop it, because we did not want her to have to be so miserable without knowing why. We decided that we would start the chemo treatments, and see how they went. Mimi went through a chemo protocol alternating between two different drugs for 6 treatments, one every three weeks. She was an awesome patient, and had very few bad reactions to the drugs. There were about two episodes where she was pretty sick, to the point where she didn't even want to eat. However, the doctor gave her Cerenia to control the vomiting, which definitely helped. Ultimately, Mimi completed her chemo regimen, keeping her ever-sunny disposition firmly intact. She has been doing quite well, and we hope that she has many years left to boss us around.
[/vc_column_text][vc_column_text]
Biggles's Story
By Paul Wilson

Biggles was diagnosed with Myelodysplasia Syndrome just after his 5th birthday.Born 10/03/2006. He had almost no white cells, no platelets and his red cell pcv was 20.After initial treatment with prednislone, after two weeks he was started on cyclosporine and ketoconazole. Over the next Five weeks his blood counts all improved and now he is still on both drugs and a daily antibiotic. He is fit and well and enjoying life
[/vc_column_text][/vc_column][/vc_row]